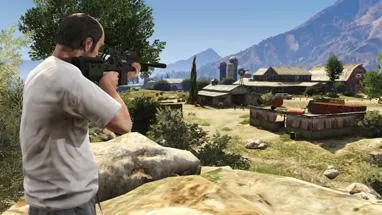 Crystal Maze is a main story mission in Grand Theft Auto V given by Tao Cheng , involving protagonist Trevor Philips .
It's the 19° GTA V mission in chronological order, and it takes place in Blaine County.
Trevor takes care of his business competition.
Gold Medal Objectives (100%)
The following are the Mission Objectives required to obtain the Gold Medal in the mission "Crystal Maze":
Headshots: Kill 10 enemies with a headshot.
Unmarked: Complete with minimal damage to health and armor.

Kill all enemies from the vantage point.
Going in the building from the back door will provide more cover.

2 Birds 1 Stone: Kill 2 enemies with one shot.

Several brothers are having conversations. Shoot in such way that the bullet passes through both of them.

Accuracy: Finish with a shooting accuracy of at least 80%.
Note: You can complete each Gold Medal requirement in multiple playthroughs of the mission. You don't need to obtain them all in one single playthrough.
Crystal Maze - Mission Details:
Trevor head to the Yellow Jack in to meet with Tao Cheng. Trevor, Cheng and his translator head outside and Trevor pitches business to the pair again. the translator lets Trevor know that they're going down a different route, partnering with the O'Neil brothers instead.
Trevor leaves in a rage and drives to the O'Neil brothers farm. Once there, he gets to a vantage point on a hill. Elwood and some of the other brothers leave the farm as they know Trevor is coming, leaving others behind to defend the farm. Trevor shoots his way through the farm and enters the house where their meth lab is.
Once any O'Neils that are inside the house are subdued, Trevor picks up a jerry can and pours a gasoline trail, leading out of the house. Once out of the house, Trevor shoots the trail, blowing up the house and the meth lab, thus ending the O'Neil's partnership with Cheng.
Crystal Maze: Mission Objectives
Go to the

O'Neil brothers' farm

.
Get to the

vantage point

on the hill.
Destroy the

O'Neils' meth lab

.
Pour a

gasoline trail

leading outside.
Shoot the gasoline trail to ignite it.
Get away from the house.
Crystal Maze: Mission Info
Crystal Maze: Videos
PS3 / Xbox 360: Gold Medal Video Walkthrough
PS4 / Xbox One (First Person): Gold Medal Video Walkthrough
Crystal Maze: Screenshots