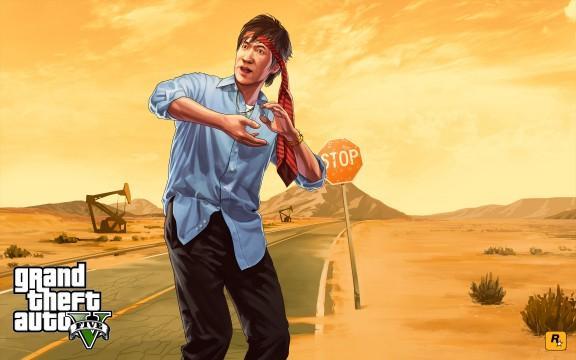 Tao Cheng appears as a Supporting Character in Grand Theft Auto V, as well as a character in GTA Online.
Tao Cheng is the firstborn son of Cheng Triad boss Wei Cheng. Unlike his father, who is a ruthless organization leader, Tao is proven to be a completely inept Triad successor, displaying the typical traits of a spoiled child.
Born in Yangshan, China, Tao speaks mostly in Mandarin Chinese. While he can speak and understand basic English, he is usually accompanied by his translator, who also handles some of the tasks Tao cannot, as he constantly gets himself high on drugs and is incapable of leading his own business meetings. Despite this, his father cares a lot for him and in spite of his behavior, never reprimands him.
Tao is normally a peaceful and laid-back person, being heavily addicted to drugs and alcohol. When not under the influence he is shown to possess a degree of intelligence and sensibility, realizing that Trevor Philips is a bad business partner. He also has a serious and irritable side, attempting to kill Franklin during the Third Way and pulling out a gun on Avery Duggan for racially insulting him.
Tao is first met in Grand Theft Auto: V when he is contacted by Ron Jakowski regarding a methamphetamine deal with TPI. He is spoken for by his translator. After the gunfight that ensues between Trevor and the Aztecas, Tao decides to work with the O'Neil brothers. As revenge, Trevor destroys their ranch and kills most of the brothers, leaving the Chengs without a drug-dealing partner. He is last seen in a three-vehicle convoy near the Pacific Bluffs beach club, where Franklin goes to kill his father, Wei Cheng.
Tao survives Franklin's attack, as he reappears in Grand Theft Auto: Online, as the head of The Diamond Casino & Resort by 2019. He is officially the owner of the casino but does none of the actual management.
Tao Cheng: Character Info
Role

Supporting Character

Gender

Male

Nationality

China

Location

Los Santos

Also Known As

Cheng Jr.

Performer / Actor

Richard Hsu

Family

Affiliation

Cheng's TranslatorTriads

Playability

Director Mode

Vehicle
Tao Cheng: Appearances
Game Edition

GTA OnlineGTA V Story Mode

Platforms

PC

PlayStation 4

Xbox One

PlayStation 3

Xbox 360
Tao Cheng Missions in Grand Theft Auto V:

Appearances in Story Missions:
Tao Cheng Screenshots
Tao Cheng Artworks
Tao Cheng Video