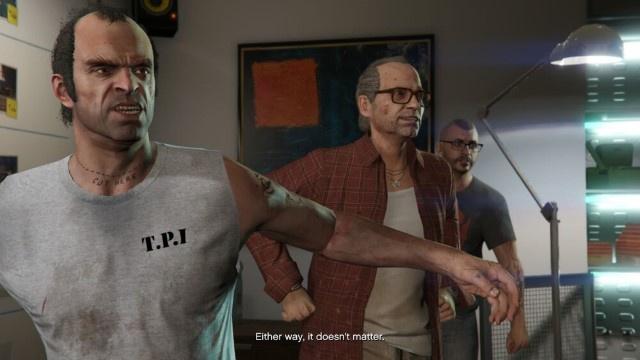 Trevor Philips Industries is an Organization featured in Grand Theft Auto V and GTA Online.
TPI is Trevor Philips' company, under which he runs drug manufacturing, drug dealing, weapons trafficking, and other illegal activities.
It is mostly composed of four people, Trevor himself, Wade, Ron, and Chef - in GTA Online, Trevor also hires rednecks as muscle, guards, or operatives.
Trevor's company is at war with all the other drug-dealing businesses in Blaine County, as he looks to take over the operations in the area. He takes out the O'Neil Brothers and destroys a big part of Blaine County's Lost MC gang.
Trevor Philips Industries: GTA V Info
Group Type

Faction

Faction Type

Arms and Drug Syndicate

Nationality

United States

Location

Sandy Shores (Blaine County); Strawberry (Los Santos)

Occupation

Drug dealing; Arms smuggling; Vehicle theft; Heists; Prostitution

Also Known As

Trevor Philips Enterprises; TPI; TP Inc.

Front Companies

Trevor's Trailer; Liquor Ace; Sandy Shores Airfield; McKenzie Field Hangar; Vanilla Unicorn

Members

Trevor Philips Ron Jakowski Wade Hebert Chef

Affiliation

Aztecas Franklin Clinton Lamar Davis Lester Crest Madrazo Cartel Michael De Santa Oscar Guzman The Families The Lost MC

Enemies

Aztecas Ballas Federal Investigation Bureau (FIB) International Affairs Agency (IAA) Los Santos Police Department (LSPD) Marabunta Grande Merryweather Security Military O'Neil Brothers The Lost MC Triads Vagos
Trevor Philips Industries: GTA V Appearances
Appearances in Story Missions: