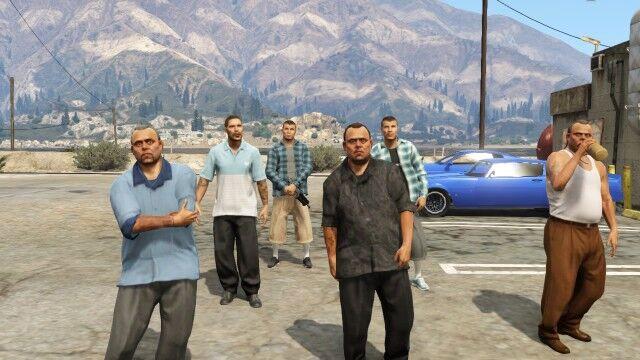 The Aztecas are a Gang featured in Grand Theft Auto V and GTA Online.
The Aztecas have older members, appearing to be in their 50's or 60's - this means that, unlike the Vagos or the Marabunta Grande, they are a multi-generational gang.
They have links to cartels are at war with Salvadorian Gang Marabunta Grande over drug trade, trafficking and weapons smuggling in the Senora Desert.
In the GTA V storyline, they are competing with TPI over weapons trade - after Trevor Philips takes down their leader, Ortega, they attack his meth lab but are defeated.
The Aztecas are easily identifiable by their turquoise coloured cholo-style clothing, wielding Pistols, SMGs and knives. Unlike the Marabunta Grande, they do not wear face tattoos.
This Gang also appears in GTA San Andreas.
Aztecas: GTA V Info
Group Type

Gang

Faction Type

Mexican Street Gang. Identified by their turquoise color.

Nationality

Mexico

Location

Rancho; Blaine County

Occupation

Drug Trafficking; Drug Manufacturing; Arms Trafficking; Vehicles Trafficking; Contraband

Also Known As

VLA; Varrios Los Aztecas

Gang Colors

Turquoise

Members

Ortega

Affiliation

Trevor Philips

Vehicles

BuzzardCuban 800DominatorDubstaEmperorFroggerFutoHuntley SIngotKurumaMesaPhoenixPicadorRancher XLRebelSadlerSultan
Aztecas: GTA V Appearances
Appearances in Story Missions: