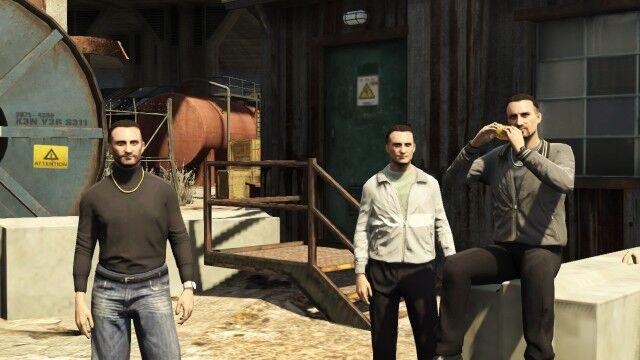 The Armenian Mob is a Gang featured in Grand Theft Auto V and GTA Online.
It is known that the Armenian Mob operates from the Roger Salvage and Scrap in La Puerta, and that they are easy to identifty by their brown leather jackets, gold chains and thick accents when speaking English.
Simeon Yetarian has connections with them, as they provide him protection (as seen in his random encounter in GTA V).
In GTA Online, they appear in Gang Attacks and are also potential buyers in the final preparations of the Diamond Casino Heist.
Armenian Mob: GTA V Info
Group Type

Gang

Faction Type

Armenian Crime Syndicate

Nationality

Armenia

Location

La Puerta, Los Santos

Occupation

Arms Trafficking; Protection; Contraband; Vehicles Trafficking

Gang Colors

Red

Front Companies

Rogers Salvage and Scrap

Members

Simeon Yetarian

Weapons

Advanced RifleAssault RifleAssault ShotgunCarbine RifleCombat MGKnifeMGMicro SMGMinigunPistolPump ShotgunRPG (Rocket Launcher)Sawed-Off ShotgunSMGSniper Rifle

Based on (Real Life)

Armenian Power Gang
Armenian Mob: GTA V Appearances
Appearances in Story Missions: