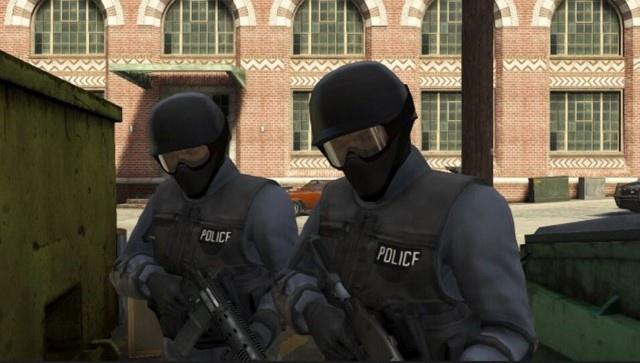 The NOOSE is a government organization featured in Grand Theft Auto V and GTA Online.
The National Office of Security Enforcement is a federal law enforcement agency responsible for heavily armed emergency responses to any major crime. The NOOSE is based on the U.S. Department of Homeland Security and the police SWAT units.
NOOSE units begin to assists the Police Forces in chases over three wanted stars. They are dispatched driving FIB Grangers or Sheriff SUV's, and can also use Tear Gas to force players out of hiding spots.
At four wanted stars, Police Helicopters may carry TRU agents that can rappel to the ground and attack the player. These agents wear balaclavas, goggles and tactical helmets, along with blue and black uniforms in addition to ballistic armor.
NOOSE: GTA V Info
Group Type

Law Enforcement Agency

Faction Type

Government Agency

Nationality

United States

Location

NOOSE Headquarters, Palomino Highlands

Occupation

National Security

Also Known As

National Office of Security Enforcement

Vehicles

AnnihilatorBuzzardBuzzard Attack ChopperFIB (Granger)Maverick Police Cruiser (Interceptor)Police MaverickPolice RiotPolice TransporterSheriff Cruiser Sheriff SUV Tula
NOOSE: GTA V Appearances
Appearances in Story Missions: