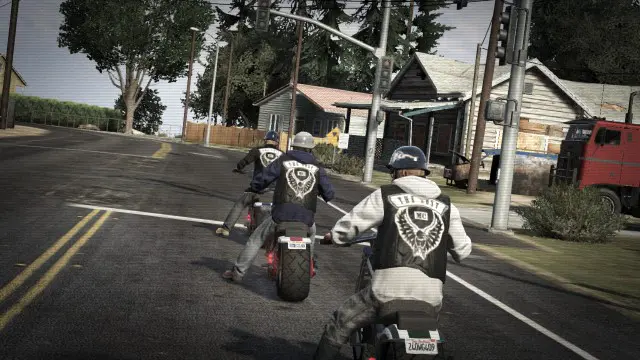 The Lost MC is a Gang featured in Grand Theft Auto V and GTA Online.
The Lost MC are an outlaw motorcycle club operating in Blaine County in 2013. They have had important influence in Liberty City, but moved to San Andreas after the events of 2008.
Their leader, Johnny Klebitz, is killed in 2013 by Trevor Philips, sparking a war between him and the gang - Trevor Philips Industries wants to take over the distribution of drugs and firearms in the area and takes them out before leaving to Los Santos.
Members of the Lost MC from Los Santos will attack Trevor Philips on sight, and can be seen wearing motorcyclist leather jackets and hanging in groups around their clubhouses.
This Gang also appears in Grand Theft Auto IV.
The Lost MC: GTA V Info
Group Type

Gang

Faction Type

Outlaw Motorcycle Club

Nationality

United States

Location

East Vinewood; Stab City; Grand Senora Desert; Hookies; North Chumash; Grapeseed

Occupation

Drug trafficking; Hijacking; Illegal racing; Armed robbery; Arms trafficking; Prostitution; Methamphetamine production

Gang Colors

Black

Front Companies

Honkers; The Range, Stab City; The Lost MC Clubhouse (East Vinewood); Hookies; R L Hunter & Sons; Braddock Farm; The Motor Motel; Dream View Motel

Vehicles

BaggerBensonDaemon (Lost MC)Dinghy (4-seater)DuneloaderFroggerGang BurritoLectroMaverickRat-TruckReginaSlamvanSovereign
The Lost MC: GTA V Appearances
Appearances in Story Missions: