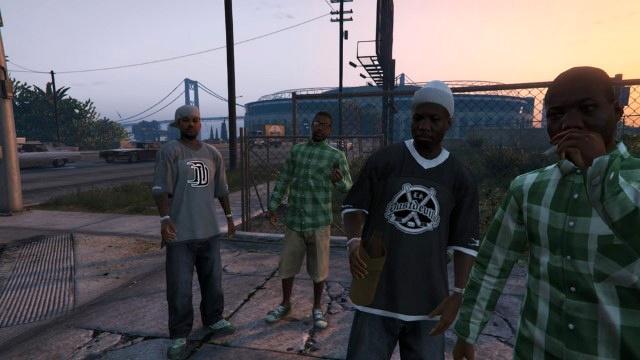 The Families are a Gang featured in Grand Theft Auto V and GTA Online.
The Families are a large African American street gang, featured both in the Story Mode and Online versions of GTA V They mainly operate around South Los Santos, dealing with drugs, weapons and vehicle trafficking.
They hold a traditional bitter rivalry with the Ballas and sport green coloured attire.
Franklin Clinton and Lamar Davis are part of the Families, other members being seen driving vehicles, walking dogs or drinking around the Families-controlled territory. They stand in groups of 2-10 and wield SMG's, Shotguns, Pistols and knives.
This Gang also appears in GTA San Andreas.
The Families: GTA V Info
Group Type

Gang

Faction Type

African-American Street Gang. Identified by their green color.

Nationality

United States

Location

Strawberry; Chamberlain Hills; Forum Drive; Carson Avenue; Davis; Grove Street

Occupation

Drugs Trafficking; Weapons Trafficking; Vehicles Trafficking

Gang Colors

Green

Front Companies

Crystal Heights; All Swell; Leroy's Electricals; Forum Drive; Vanilla Unicorn; BJ Smith Recreational Center

Enemies

Aztecas Ballas The Lost MC Vagos
The Families: GTA V Appearances
Appearances in Story Missions: