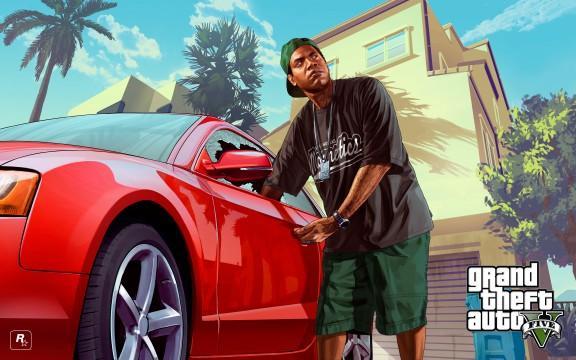 Lamar Davis appears as a Major Character and Companion in Grand Theft Auto V, as well as a character in GTA Online.
Lamar Davis is Franklin's crazy friend, a proud member of The Families, and fellow employee at Deluxe Premium Motorsport.
He frequently bugs Franklin about his attempts at leaving the gang life behind.
Lamar is Franklin's best friend and he lives in Chamberlain Hills. He and Franklin both attended Davis High School and eventually became involved in crime. It is revealed that Lamar is a drug dealer and gang-banger, and of Apache descent.
While describing Lamar, Rockstar mentioned that even though he is crazy, he is "a good kind of crazy" and the exact opposite of Franklin. He is lazy and tends to get himself in trouble by blindly trusting anyone offering him money. One example of this is accepting the deal with D, a Balla he previously attempted to kidnap - this deal was quickly revealed to be an ambush aimed for revenge. Despite his not-so-bright mind and apparent cowardness, he is a loyal friend, especially to Franklin, being quick to assist him and his friends in the Deathwish ending.
Lamar reappears in Grand Theft Auto Online. He is the one to welcome the player at the airport and proceeds to introduce Los Santos. He's also the one who introduces the player to Gerald, and he's featured several GTA: Online updates, such as the Lowriders update, the Los Santos Tuners, and the Contract update.
The GTA: Online protagonist can also call Lamar to ask to have a player mugged. After reaching rank 50, and for $1000, the protagonist can target a fellow player. A mugger will be sent to their location, who will knock the target unconscious and steal up to $10,000 of money not in the bank.
Lamar Davis: Character Info
Gender

Male

Nationality

United States

Location

Forum Drive, Strawberry, Los Santos

Occupation

Vehicle repossession; Drug dealing; Car theft

Also Known As

LD; Long Dick

Performer / Actor

Slink Johnson

Family

Affiliation

Franklin ClintonThe Families

Playability

Director Mode

Vehicle
Lamar Davis: Appearances
Game Edition

GTA OnlineGTA V Story Mode

Platforms

PC

PlayStation 4

Xbox One

PlayStation 3

Xbox 360
Lamar Davis Missions in Grand Theft Auto V:

Appearances in Story Missions:
Lamar Davis Screenshots
Lamar Davis Artworks
Lamar Davis Video