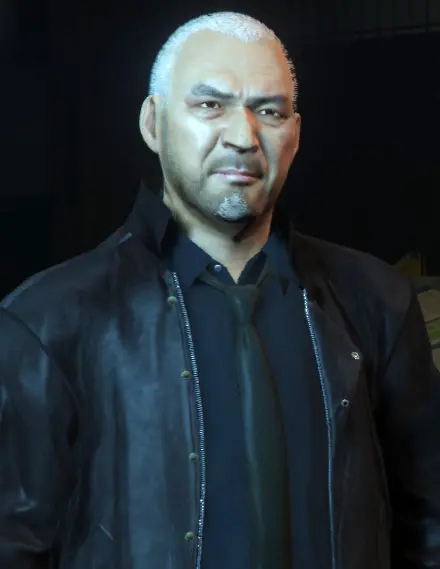 Wei Cheng appears as a Major Character and Antagonist in Grand Theft Auto V.
Wei Cheng is the leader of the Los Santos Triads, trying to expand his drug dealing operations into Blaine County. He eventually comes into conflict with Trevor when he decides to ditch Trevor's business and partner with the O'Neil Brothers instead.
A Chinese-born mobster from Yangshan, Cheng leads the Los Santos Triads gang, which primarily deals with gunrunning and meth manufacturing. By 2013, his operation has grown heavily, and he seeks to expand into Blaine County through collaboration with groups already present there, such as Trevor Philips Industries.
Wei Cheng is shown to be extremely cruel and bloodthirsty, stopping at nothing to ensure the Triads are the dominant gang in Los Santos, going as far as having Michael de Santa hunted in North Yankton and sentenced to being slaughtered for his alleged "lover" Trevor's actions against his gang.
In order to fulfill his goal of expanding into Blaine County, Cheng sends his son and his translator to make contact with Trevor Philips. After a failed discussion caused by an attack of the Aztecas on Trevor's meth lab, the Chengs decide to work with the O'Neil Brothers instead. This causes Trevor to raid the brother's farm, killing most of them and blowing up their methamphetamine kitchens. This causes an enraged Cheng to attempt to capture Trevor Philips for revenge.
Wei Cheng: Character Info
Gender

Male

Nationality

China

Occupation

Los Santos Triads; Drug dealing

Performer / Actor

George Cheung

Family

Affiliation

Triads

Playability

Non-Playable

Vehicle
Wei Cheng: Appearances
Game Edition

GTA V Story Mode

Platforms

PC

PlayStation 4

Xbox One

PlayStation 3

Xbox 360
Appearances in Story Missions:
Wei Cheng Screenshots
Coming soon.
Wei Cheng Artworks
Coming soon.