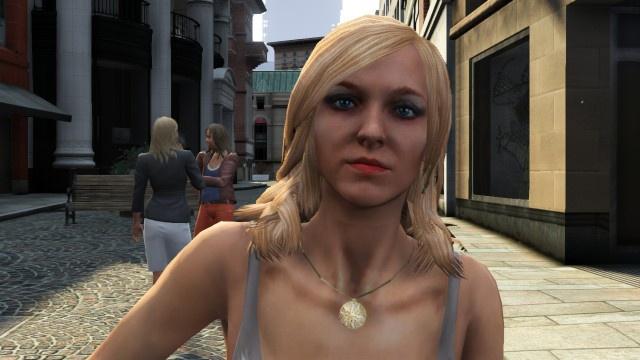 Kerry McIntosh appears as a Minor Character in Grand Theft Auto V.
Kerry McIntosh is a 28-year-old supermodel from San Fierro with a history of drug and alcohol abuse. She is one of the honored celebrities of the Vinewood Walk of Fame.
Trevor encounters her near the Vangelico Jewel Store on Little Portola in Rockford Hills, when he is ordered by Nigel and Mrs. Thornhill to collect Dexie, Kerry's dog's collar as a souvenir.
She also appears in Grand Theft Auto: Online as part of the After Hours update, being of the celebrities that can be delivered to the club to maintain their popularity.
Kerry McIntosh: Character Info
Role

Minor Character

Gender

Female

Nationality

United States

Location

Los Santos

Occupation

Supermodel

Performer / Actor

Lauren McFall

Vehicle
Kerry McIntosh: Appearances
Game Edition

GTA V Story Mode

Platforms

PC

PlayStation 4

Xbox One

PlayStation 3

Xbox 360
Appearances in Story Missions: