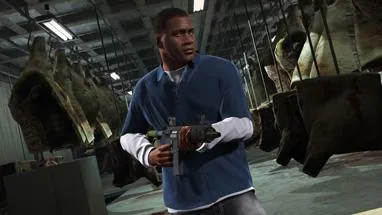 Fresh Meat is a main story mission in Grand Theft Auto V given by Franklin Clinton , involving protagonist Michael De Santa and Franklin Clinton .
It's the 53° GTA V mission in chronological order, and it takes place in Los Santos.
Michael's world gets turned upside down.
Gold Medal Objectives (100%)
The following are the Mission Objectives required to obtain the Gold Medal in the mission "Fresh Meat":
Switch Limiter: Don't switch more than 3 times.

Control Franklin until saving Michael.
Switch to Michael for the remainder of the shootout.
Switch back to Franklin for his driving ability.

Accuracy: Finish with a shooting accuracy of at least 70%.
Headshots: Kill 10 enemies with a headshot.

Use Michael's ability to aid with aiming.

Swift Rescue: Rescue Michael within 03:30.

Use a shotgun to save time.

Sense of Direction: Don't use a map waypoint.

Use the Trackify app to get to the slaughterhouse.
Note: You can complete each Gold Medal requirement in multiple playthroughs of the mission. You don't need to obtain them all in one single playthrough.
Fresh Meat - Mission Details:
Franklin heads to his old house in Strawberry. He sees his auntie and her friends leave on one of their walks, chanting. Trevor appears and shouts at the group to shut up before greeting Franklin. Trevor jumps over Franklins fence but trips. Franklin finds this hilarious but Trevor doesn't and starts shouting at Franklin.
When Trevor calms down, Franklin tells him Lester has some information on Michael whereabouts. Franklin asks about what happened in North Yankton and Trevor describes his partnership with Wei Cheng and that they grab Michael. Franklin wants to go find him but Trevor doesn't want to come so Franklin heads out to find Michael on his own with help from Lester.
Lester sends Franklin the Trackify app. Michael phone came back online so they use that to track him. Play then switches to Michael, who is hanging upside down in a meat-packing factory, being interrogated by Wei Cheng and some of his men. Michael tries to pursue Cheng that he's not Trevor's lover but Cheng doesn't believe him and turns on a food processor. Michael slowly starts to move towards the food processor and will be killed if Franklin doesn't get there in enough time.
The Trackify app directs Franklin to the Raven Slaughterhouse in Cypress Flats. Once there, Franklin takes out any of Cheng's men as he makes his way around the slaughterhouse. Once Franklin finds Michael, he chucks Michael a pistol and the play now switches to him as he shots down more of Cheng's men.
When the coast is clear, Michael shoots the shackles that are holding him upside down, freeing himself. He and Franklin escape the slaughterhouse and deal with any other of Cheng's men that come their way. They get into Franklins car and head to Michael's house. Once at Michaels house, He thanks Franklin for his help and tells him the full story of what happened between him and Trevor.
Fresh Meat: Mission Objectives
Find Michael's location.
Rescue

Michael

.

Escape

from the slaughterhouse.
Fresh Meat: Mission Info
Rewards

Ability to play as Michael again
Fresh Meat: Videos
PS3 / Xbox 360: Gold Medal Video Walkthrough
PS4 / Xbox One (First Person): Gold Medal Video Walkthrough
Fresh Meat: Screenshots
Coming soon.