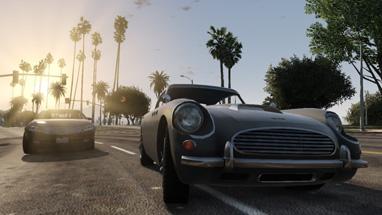 Deep Inside is a main story mission in Grand Theft Auto V given by Devin Weston, involving protagonist Franklin Clinton.
It's the 41° GTA V mission in chronological order, and it takes place in Los Santos.
Franklin boosts a JB 700 for Devin.
Gold Medal Objectives (100%)
The following are the Mission Objectives required to obtain the Gold Medal in the mission "Deep Inside":
Not a Scratch: Deliver the JB 700 with minimal damage.

Use Franklin's special ability.

Fastest Speed: Reach top speed in the JB 700.

Use Franklin's special ability to reach top speed quickly.

Stealthy Recasting: Knock out the actor with a stealth attack.
Premature Ejector: Use the ejector seat within 10 seconds.

Press the eject button as soon as prompted to do so.

Second Strike: Run over the actor as you escape in the JB 700.

Do this after knocking out the actor. He will be on the road.
Note: You can complete each Gold Medal requirement in multiple playthroughs of the mission. You don't need to obtain them all in one single playthrough.
Deep Inside - Mission Details:
Franklin arrives at the back of the Backlot City movie studio and calls Molly to say he is there. Molly gives him his next carjacking mission, a JB 700 which is situated inside the studio and being used for a movie. Only actors and stunt people are allowed near it so Franklin needs to find a disguise.
Franklin keeps inside the lot by climbing over the wall and finds an actor called Brandon Roberts. Franklin knocks him out and steals his clothes. He puts Brandon inside his trailer and changes into his close. Now in costume, Franklin is able to walk straight up to the car and get in.
Franklin drives the car away from the studio, with an actress occupying the passenger seat, and starts driving towards the drop off point. The studio sets security on Franklin and the actress tries to derail Franklin by grabbing the wheel. Franklin uses spikes, that are released from the back of the car, to stop the pursuing security. Once losing the security, Franklin ejects the passenger seat, getting rid of the actress.
Franklin calls Molly, she tells him to bring the car to Hayes Auto. He arrives at Hayes Auto and meets up with Devin. Lamar has been floating around and disturbs their conversation. Lamar's been in contact with Trevor to find out where Franklins been and tells him of the jobs. Devin decides to employ Lamar for the last job, much to Franklin's annoyance.
Deep Inside: Mission Objectives
Get inside.
Find the

actor

.
Get in the

car

.
Deliver the car to the

garage

.
Lose the

security

.
Deep Inside: Mission Info
Mission Number

41

Mission Type

Mandatory Mission

Mission Giver

Devin Weston

Protagonist (Playable)

Franklin Clinton

Location

Richards Majestic Productions, Backlot City

State / Area

Los Santos
Unlocked Items

JB 700
Deep Inside: Videos
PS3 / Xbox 360: Gold Medal Video Walkthrough
PS4 / Xbox One (First Person): Gold Medal Video Walkthrough
Deep Inside: Screenshots