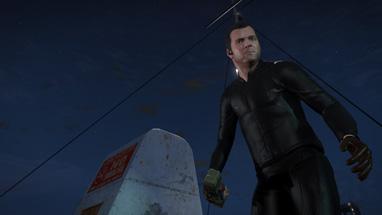 Mission Information
Mission Number

31

Mission Type

Branching ChoiceHeist

Mission Giver

Trevor Philips

Description

Trevor gets Michael and Franklin on board to steal a prototype Merryweather Security are testing at sea.

Protagonist (Playable)

Michael De SantaFranklin ClintonTrevor Philips

Location

Floyd's Apartment; SS Bulker; Pier 400

State / Area

Los Santos
Heist Setups

Notes

This is a branching mission that is played when choosing The Merryweather Heist (Freighter)

Rewards

Subversive Achievement
Gold Medal Objectives (100%)
The following are the Mission Objectives required to obtain the Gold Medal:
Headshots: Kill 12 enemies with a headshot.
Accuracy: Finish with an accuracy of at least 80%.
Ninja: Kill 12 enemies using stealth attacks.
Container Hunter: Find the container within 1 minute.
No Alarms: Get to the ship interior without being detected.
Note: You can complete each Gold Medal requirement in multiple playthroughs of the mission. You don't need to obtain them all in one single playthrough.
Mission Objectives
Get in a vehicle.
Drive to the

bridge

.
Go to the

vantage point

.
Protect Michael as he plants the bombs.
Plant the first bomb at the

bow pillar

.
Plant the second bomb at the

first mast

.
Plant the third bomb at the

second mast

.
Go to the ship's stern

entrance

.
Detonate the bombs.
Locate the

device

amongst the wreckage.
Go to the

device

.
Return the device to the

safe area

.
Videos
PS3 / Xbox 360: Gold Medal Video Walkthrough
PS4 / Xbox One (First Person): Gold Medal Video Walkthrough
Screenshots