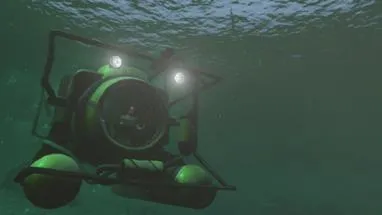 Minisub is a main story mission in Grand Theft Auto V, involving protagonist Trevor Philips.
It's the 28° GTA V mission in chronological order, and it takes place in Los Santos.
Get kitted up for for the Merryweather Heist.
Gold Medal Objectives (100%)
The following are the Mission Objectives required to obtain the Gold Medal in the mission "Minisub":
Time: Complete within 08:30

Skip the cutscene.
Navigate close to the surface.

No Boarding: Steal the submersible without boarding the boat.

Snipe the submersible's cables and jump into the water to steal it.
Note: You can complete each Gold Medal requirement in multiple playthroughs of the mission. You don't need to obtain them all in one single playthrough.
Minisub - Mission Details:
Wade messages Trevor, letting him know he's found a mini-sub at the docks. Trevor drives to the location and see's the min-sub hanging off the side of a boat called Daisy-Lee.
To get the mini-sub, Trevor can either shoot down the cables holding the mini-sub from a vantage point or sneak on the ship and release the mini-sub using the control panel. Whichever way is chosen, the mini-sun will fall into the seas for Trevor to retrieve.
Once in the mini-sub, Trevor drives it to a different part of the port where Floyd is waiting with a crane to bring the mini-sub to shore. He loads it onto a truck and he and Trevor tie the mini-sub to the truck.
Trevor gets into the truck and drops it off at a warehouse at the docks.
Minisub: Mission Objectives
Retrieve the

sub

.
Go to the

extraction point

.
Drop the sub off at the

warehouse

.
Get out of the

truck

.
Minisub: Mission Info
Mission Number

28

Mission Type

Mandatory Mission

Mission Giver

Trevor Philips

Protagonist (Playable)

Trevor Philips

Location

Port of Los Santos

State / Area

Los Santos
Heist Finale

Featuring

SubmersiblePackerFloyd Hebert
Minisub: Videos
PS3 / Xbox 360: Gold Medal Video Walkthrough
PS4 / Xbox One (First Person): Gold Medal Video Walkthrough
Minisub: Screenshots
Coming soon.