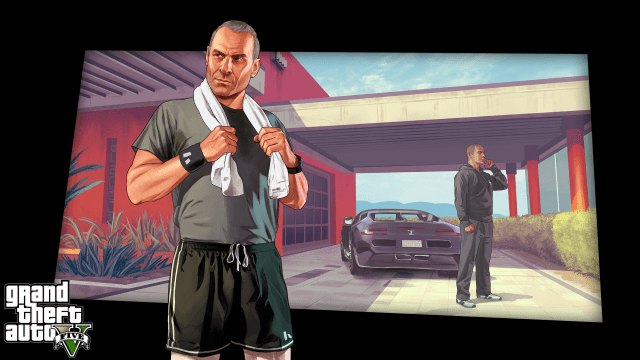 Devin Weston appears as a Major Character and Antagonist in Grand Theft Auto V.
Devin Weston is a corrupt and influential billionaire, who owns various businesses in San Andreas.
He has a private army in the form of the Merryweather Security Consulting firm, and he blames Michael for interfering with his businesses.
The protagonists first meet Weston after a meeting of his with Steve Haines, during the mission By The Book. They are not properly introduced to Weston until after they rob an armored truck for him, after which Weston offers the trio special business opportunities, such as offering Michael the possibility of making a movie with his idol Solomon Richards and offering Trevor and Franklin a contract to steal five luxury cars so he can sell them to Chinese government officials.
Instead of staying true to his promises, Weston backs out of paying for the stolen cars and then attempts to shut down the production of Michael's movie to claim an insurance payout.
If the player chooses Ending C, the Deathwish, Weston will be kidnapped by Trevor after the other protagonists have killed Haines, Wei Cheng, and Stretch. Trevor stuffs him in the trunk of his own car and drives it to the edge of a cliff in Blaine County, where the three push him off the edge.
Weston is considerably pompous, egotistical, narcissistic, arrogant, charismatic, temperamental, and over-the-top. He enjoys constantly reminding the protagonists that he is far wealthier than they are, and that his affluence allows him to do as he pleases.
However, the "Deathwish" ending implies that, while Weston may have many connections, he is not liked by his associates and acquaintances, since none of the protagonists ever face repercussions for their role in Devin Weston's death. The police and the FIB list him as "missing" when his body is not found, and the Merryweather CEO Don Percival thanks Michael and Trevor for killing Weston as it allows him to buy Weston's shares at a reduced price.
Devin Weston: Character Info
Gender

Male

Born In Year

1962 (51 years old in 2013)

Nationality

United States

Location

Mansion, Buen Vino Road, Tongva Hills, Los Santos County

Occupation

Devin Weston Holdings

Also Known As

Devo

Performer / Actor

Jonathan Walker

Affiliation

Merryweather SecurityMolly SchultzSteve Haines

Playability

Director Mode

Vehicle
Devin Weston: Appearances
Game Edition

GTA V Story Mode

Platforms

PC

PlayStation 4

Xbox One

PlayStation 3

Xbox 360
Devin Weston Missions in Grand Theft Auto V:

Appearances in Story Missions:
Devin Weston Screenshots
Devin Weston Artworks