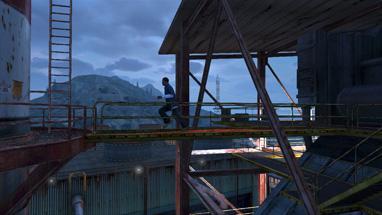 The Time's Come (Ending B) is a main story mission in Grand Theft Auto V given by Devin Weston , involving protagonist Franklin Clinton .
This is one of the three possible final missions and endings of the storyline of Grand Theft Auto V.
Franklin has to make a choice.

WARNING: If you pick this ending, you will permanently lose access to Michael from this point forward.
Gold Medal Objectives (100%)
The following are the Mission Objectives required to obtain the Gold Medal in the mission "The Time's Come (Ending B)":
Surpassed The Mentor: Killed Michael.
Note: You can complete each Gold Medal requirement in multiple playthroughs of the mission. You don't need to obtain them all in one single playthrough.
The Time's Come (Ending B) - Mission Details:
This mission is triggered if Franklin chooses option B (Kill Michael). According to further developments in GTA Online, this ending is confirmed to be non-canon.
When choosing this ending, it will no longer be possible to play as Michael, and any Michael activities will no longer be available.
At the end of Lamar Down, Franklin is approached by Haines and Dave to kill Trevor. Later on, after The Big Score, Devin visits Franklin at his house and tasks him with killing Michael. Once Devin leaves, Franklin has to make a choice, either:
Kill Trevor (A)
Kill Michael (B)
Deathwish (C)
Franklin chooses to kill Michael and gives him a call. He asks Michael to meet him somewhere quiet and Michael says they'll meet off Route sixty-eight, at the satellite dishes. On his journey over he calls Trevor and tells him what he's about to do. He asks Trevor for his help but Trevor turns him down saying he's had enough traitors and that the pair deserve each other.
The pair meet at the satellite dishes. While there, Michael receives a call, announcing that Tracey's got into college. Michael reminisces on his life with Franklin, stating that he is lucky and he and Franklin have finally made it. Michael soon realises that Franklin is there to kill him and escapes in his car.
Franklin chases after him along some train tracks and their chase eventually leads to the Palmer-Taylor Power Station. Franklin continues to chase him through the power station on foot. They both make their way to one of the chimneys walkways. Michael holds a gun to Franklin, expressing his anger over the current situation. Franklin tackles him and starts beating him, saying he was nothing but Michael's bitch.
Michael gets up and doesn't agree with Franklin saying he trusted him, took him in and treated him like family. Franklin pushes him over the side but immediately grabs Michael by the hand as he's hanging. Franklin can either drop or save Michael. If he drops him, he falls to his death. If he saves him, Michael will headbutt Franklin, making him lose grip and still fall to his death.
Franklin calls Lamar but it goes to voicemail. He leaves him a message stating he's sorry for how he's been and quotes Michael by saying you just start running then all of a sudden your legs give and you just can't run no more. He hangs up the phone and the end credits roll.
The Time's Come (Ending B): Mission Objectives
Chase

Michael

.
Go to Michael's last known

location

.
Drop or save

Michael

.
The Time's Come (Ending B): Mission Info
Rewards

The Big Score Payout (Maximum gross take: $201,600,000); To Live or Die in Los Santos Achievement/Trophy

Unlocked Items

Hot Rod Blazer Gusenberg Sweeper Mrs. Philips

Notes

This is a branching mission that is played when choosing to kill Michael (Option B).
The Time's Come (Ending B): Videos
PS3 / Xbox 360: Gold Medal Video Walkthrough
PS4 / Xbox One (First Person): Gold Medal Video Walkthrough
The Time's Come (Ending B): Screenshots
Coming soon.