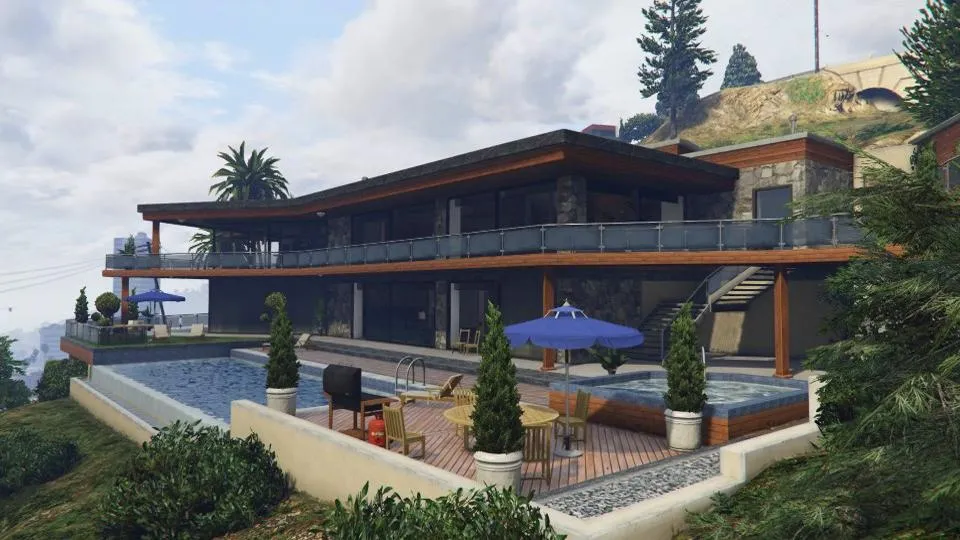 3671 Whispymound Drive is a safehouse in Grand Theft Auto V, given to Franklin Clinton by Lester after completing "The Hotel Assassination" mission.
The safehouse is located on Whispymound Drive in Vinewood Hills.
The property is a modern house with two floors, a garage, an infinity pool and Jacuzzi. There is a large living area with a kitchen, while downstairs there is a bedroom with a walk-in closet.
Property Information
Property Type

Safehouse

Location

Vinewood Hills, Whispymound Drive

State / Area

North Los Santos

Available After Mission (Story Mode)

How To Unlock

Becomes available after completing "The Hotel Assassination"

Can be Owned by

Franklin

Occupant Characters

Franklin ClintonChop

Vehicles Capacity

2

Parked Vehicles
3671 Whispymound Drive (Franklin's House): Appearances
Appearances in Story Missions:
3671 Whispymound Drive (Franklin's House) Screenshots
Artworks