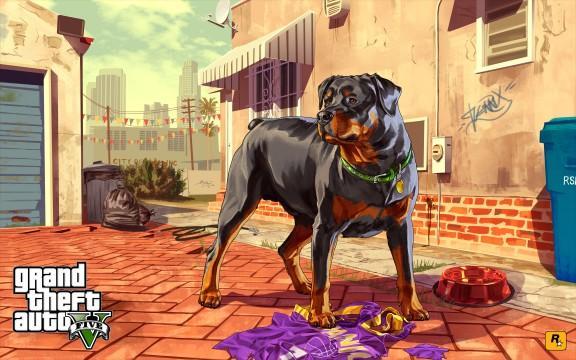 Chop appears as a Supporting Character and Playable Character in Grand Theft Auto V.
Chop is Franklin's and Lamar's pet Rottweiler Dog. Although nominally Lamar's dog, he lives with Franklin for a majority of the storyline.
Franklin can engage in several activities with Chop, including walking him and playing fetch with a ball.
His behavior can be controlled with the iFruit App. If his happiness is low, he'll be upset and won't perform any tricks. If his happiness is high, he'll behave really well. When Franklin approaches him, he'll bark because he wants attention.
He can actually be controlled in-game during the missions Chop and Predator.
Chop reappears in Grand Theft Auto: Online in 2021, during the events of The Contract update. He is a lot older and Franklin mentions that he "doesn't get around too much no more". He still helps Franklin and Lamar in some missions, such as Short Trip - Seed Capital.
Chop: Character Info
Gender

Male

Location

Strawberry, Los Santos (formerly); Vinewood Hills (Los Santos)

Occupation

Dog

Also Known As

Little Homie; Chopper; Chop-Chop

Available After Mission (Story Mode)

Family

Property / Safehouse

Clinton Residence3671 Whispymound Drive (Franklin's House)

Playability

Story Mode

Director Mode

Peyote Plant

Weapons

Ball
Chop: Appearances
Game Edition

GTA V Story Mode

Platforms

PC

PlayStation 4

Xbox One

PlayStation 3

Xbox 360
As Protagonist (Playable)

Appearances in Story Missions:
Chop Screenshots
Chop Artworks