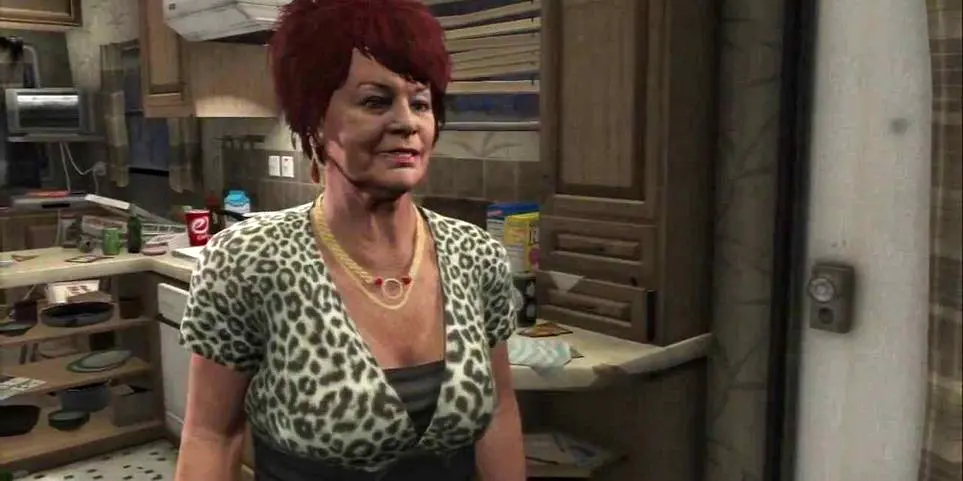 Mrs. Philips is a character that appears as a Stranger & Freaks in Grand Theft Auto V.
Mrs. Philips is the mother of Trevor Philips. She shows up at his trailer after the game is finished.
She was once a prostitute and stripper, and it is implied that she was abusive and neglectful towards her son, rarely paying attention to him. She was sentenced to jail for an unknown amount of time, but it is unknown what the sentence was for.
When she appears at Trevor's trailer, she asks him to steal a van of Deludamol. She will lock the door and will not allow Trevor to enter until he finds a Deludamol Rumpo van. When Trevor finds and returns the van, Mrs. Philips will already be long gone and never to be seen again.
Mrs. Philips: Character Info
Role

Stranger & Freaks

Gender

Female

Born In Year

1932 (81 years old in 2013)

Nationality

Canada

Occupation

Prostitution (formerly); Stripper (formerly)

Performer / Actor

Geraldine Moffat

Family
Mrs. Philips: Appearances
Game Edition

GTA V Story Mode

Platforms

PC

PlayStation 4

Xbox One

PlayStation 3

Xbox 360
Mrs. Philips Missions in Grand Theft Auto V:

Appearances in Story Missions: