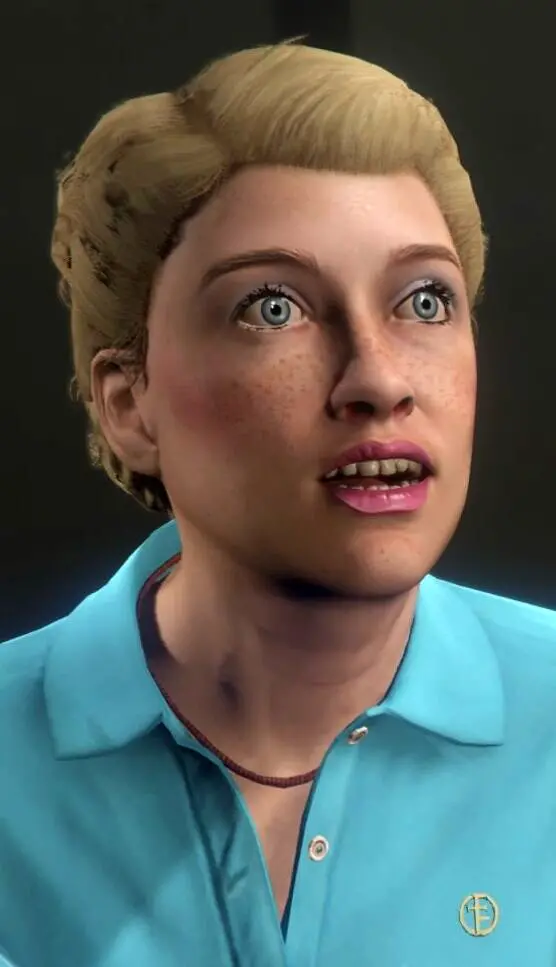 Marnie Allen is a character that appears as a Stranger & Freaks in Grand Theft Auto V.
Marlene "Marnie" Allen is a former drug addict from Liberty City who turned her life around with the help of Niko Bellic in Grand Theft Auto IV.
After overcoming her drug addiction and moving to San Andreas by 2013, Marnie joined the Epsilon Cult. She first makes contact with Michael De Santa after completion of the mission Seeking The Truth, sending him an e-mail asking for a $500 donation to the program. She is the one that introduces Michael to Jimmy Boston, and they accompany him while he tries to find "alien artifacts" in the desert. Her last appearance in Grand Theft Auto: V is during Exercising the Truth, when she tells Michael to run 5 miles through the Grand Senora Desert to complete the program.
Marnie reappears in Grand Theft Auto: Online in late 2021, during the event of The Contract. She attempts to request an off-the-books, discreet meeting with Lamar Davis, in order for the Cult to join the Cannabis Industry, but the meeting is disrupted by the Vagos. Lamar then ceases contact with the Epsilonists and they are not seen again in-game.
The character of Marnie Allen also appears in Grand Theft Auto IV.
Marnie Allen: Character Info
Role

Stranger & Freaks

Gender

Female

Born In Year

1987 (26 years old in 2013)

Nationality

United States

Location

Los Santos

Occupation

Epsilon Program

Also Known As

Shupar; Queen of the Winds; Shukukukar

Performer / Actor

Reyna de Courcy

Vehicle

Baby-blue (Epsilon Program)
Marnie Allen: Appearances
Game Edition

GTA V Story Mode

Platforms

PC

PlayStation 4

Xbox One

PlayStation 3

Xbox 360
Marnie Allen Missions in Grand Theft Auto V:

Appearances in Story Missions: