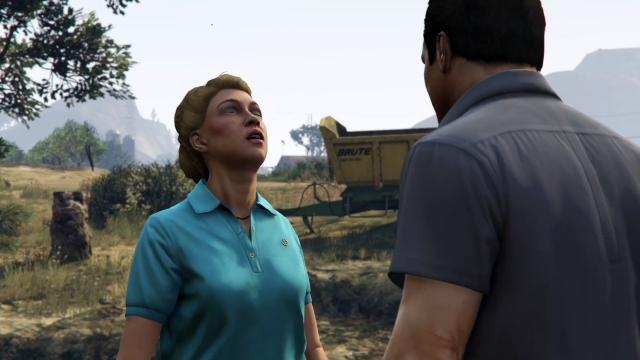 Assuming the Truth is a Strangers & Freaks side mission in Grand Theft Auto V given by Marnie Allen and Epsilon Program, involving protagonist Michael De Santa.
It's the 3° mission for Marnie Allen, Epsilon Program, after the Accepting the Truth mission.
This is an optional mission, not required for 100% completion of the game.
Assuming the Truth - Mission Details:
Michael needs to steal 5 vehicles to advance on his path to enlightenment.
After donating $5,000 to the Epsilon Program, Michael meets Marnie out in Grapeseed. Marnie tells Michael his name is Zolag and goes on about his journey and how he shall soon be freed. Marnie says she is now Shupar, Queen of the Winds. Michael tells Marnie that this is all bullshit and goes to leave. Before he goes, Marnie tells him that actors, philosophers and humanitarians are part of Epsilon and that they need cars.
Marnie goes on to ask Michael to obtain the cars and that the spirits will email him with their requirements. The five cars Michael needs to obtain are:
Pegassi Vacca
Benefactor Surano
Declasse Tornado
Enus Super Diamond
Dinka Double T
Each car needs to be delivered to a house on Hillcrest Ridge Access Road in Vinewood Hills.
Gold Medal Objectives (100%)
There are no Gold requirements for this mission.
Assuming the Truth: Mission Objectives
Deliver 5 cars to the house on Hillcrest Ridge Access Road in Vinewood Hills: Pegassi Vacca, Benefactor Surano, Declasse Tornado, Enus Super Diamond, Dinka Double T.
Assuming the Truth: Mission Info
Mission Type

Strangers and Freaks

Mission Giver

Marnie Allen, Epsilon Program

Protagonist (Playable)

Michael De Santa

Location

Grapeseed

State / Area

Blaine County

Required for 100%

No
Notes

Not required for 100% completion of the game. The mission cannot be replayed afterwards, as it's done as a free roam activity
Assuming the Truth: Videos
PS3 / Xbox 360: Gold Medal Video Walkthrough
PC: Gold Medal Video Walkthrough