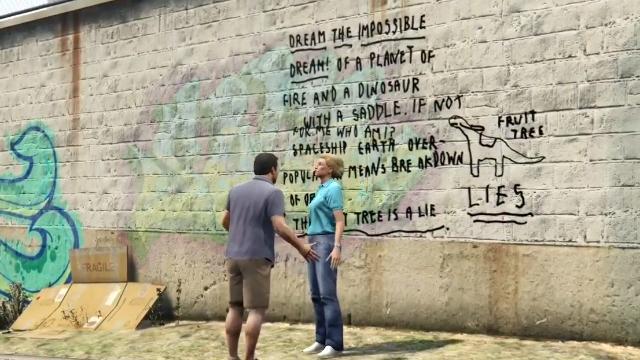 Bearing the Truth is a Strangers & Freaks side mission in Grand Theft Auto V given by Marnie Allen and Epsilon Program, involving protagonist Michael De Santa.
It's the 5° mission for Marnie Allen, Epsilon Program, after the Chasing the Truth mission.
This is an optional mission, not required for 100% completion of the game.
Bearing the Truth - Mission Details:
Michael needs to buy and wear Epsilon Robes for 10 days.
Michael meets Marnie in an alleyway in Downtown Vinewood. Marnie tells Michael that the next part of the Epsilon Program is to wear the Epsilon Robes for 10 cumulative days. The robes can be purchased on the Epsilon Program website for $25,000.
Players can either carry on with the game wearing them or get Michael to sleep 40 times to hurry along the process.
Gold Medal Objectives (100%)
There are no Gold requirements for this mission.
Bearing the Truth: Mission Objectives
Buy the Epsilon Robe for $25,000
Wear the robe for 10 consecutive days
The fastest way to complete the mission is to advance the time by sleeping or killing yourself. Either:
Sleep 40 times with Michael (advances time 6 hours each)
Kill yourself 20 times with Michael (advances time 12 hours each)
Avoid playing other missions or activities which may change Michael's clothes automatically.
Bearing the Truth: Mission Info
Mission Type

Strangers and Freaks

Mission Giver

Marnie Allen, Epsilon Program

Protagonist (Playable)

Michael De Santa

Location

Downtown Vinewood

State / Area

Los Santos

Required for 100%

No
Rewards

Cris Formage contact

Featuring

Marnie Allen

Notes

Not required for 100% completion of the game. The mission cannot be replayed afterwards, as it's done as a free roam activity
Bearing the Truth: Videos
PS3 / Xbox 360: Gold Medal Video Walkthrough
PC: Gold Medal Video Walkthrough