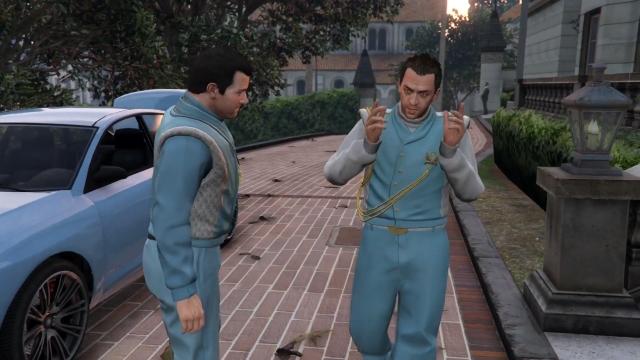 Michael needs to choose between Epsilon's reward or stealing their money... or both.
Mission Information
Mission Type

Strangers and Freaks

Mission Giver

Cris Formage

Protagonist (Playable)

Michael De Santa

Location

Epsilon Center, Rockford Hills

State / Area

Los Santos

Required for 100%

No
Notes

Not required for 100% completion of the game

Rewards

"Kifflom!" achievement/trophy; Unique Rusty Tractor, or $2,100,000, or both.

Unlocked Items

Tractor
Gold Medal Objectives (100%)
The following are the Mission Objectives required to obtain the Gold Medal:.
Cult Intervention: Kill all Epsilon Security
Show Me The Money: Steal the Epsilon money and escape
Note: You can complete each Gold Medal requirement in multiple playthroughs of the mission. You don't need to obtain them all in one single playthrough..
Mission Objectives
The player has three choices as to how to conclude the mission:.
Remain Loyal (Tractor Ending).
Follow Epsilon's security
Park the car at the drop-off point
Exit the car.
Follow the cult member
Obtain a rusty Tractor
Betrayal (Money Ending).
Kill or escape from the Epsilon guards
Lose the Cops
Obtain $2.1 millions
How to Obtain both the Tractor and the Money:.
Follow Epsilon's security
Park the car at the drop-off point
When the cult member gets out of the helicopter, shoot all guards
Lose the Cops by circling around the building
Walk down the stairs and enter the Tractor
Drive the Tractor near the car
Enter the car to complete the mission and earn the $2.1 millions
The Tractor is also free to take and store
.
Videos
PS3 / Xbox 360: Gold Medal Video Walkthrough
PC: Gold Medal Video Walkthrough