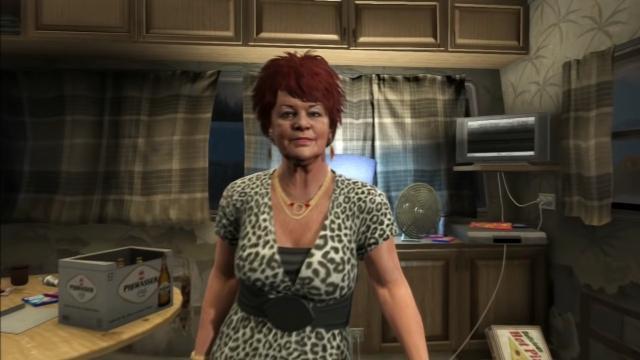 Mrs. Philips is a Strangers & Freaks side mission in Grand Theft Auto V given by Mrs. Philips, involving protagonist Trevor Philips.
The mission becomes available after completing the The Time's Come (Ending B) and The Third Way (Ending C) story mission.
It's the first mission for Mrs. Philips.
This is an optional mission, not required for 100% completion of the game.
Mrs. Philips - Mission Details:
Trevor finds his mother in his trailer, who locks him out and asks him to bring all the Deludamol he can find.
After the events of the final story mission, Trevor heads back to his trailer in Sandy Shores to find his mother, Mrs Philips, there. The pair haven't seen each other in years and have an emotional chat due to Trevor not going to see his mom. Trevor eventually apologises and breaks down crying, hugging his mom's legs.
She gets annoyed and pushes him off, continuing to shout at him. Mrs Philips tells him she has no insurance and is in pain. Trevor offers money but she turns it down. Instead, she wants him to get her some Deludamol, a truckload to be precise. Trevor sets out to steal a Deludamol truck.
Gold Medal Objectives (100%)
There are no Gold requirements for this mission.
Mrs. Philips: Mission Objectives
Find a van with the Deludamol pharmaceuticals logo
Mrs. Philips: Mission Info
Mission Type

Strangers and Freaks

Mission Giver

Mrs. Philips

Protagonist (Playable)

Trevor Philips

Location

Trevor's Trailer, Sandy Shores

State / Area

Blaine County

Available After Mission (Story Mode)

Required for 100%

No
Featuring

Trevor's TrailerMrs. Philips

Notes

Not required for 100% completion of the game. Only available if Trevor isn't killed in final story mission. The mission cannot be replayed afterwards, as it's just a cutscene with no objectives to complete
Mrs. Philips: Videos
PS3 / Xbox 360: Gold Medal Video Walkthrough
PC: Gold Medal Video Walkthrough