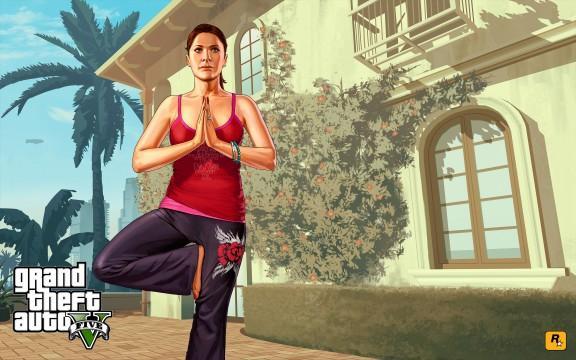 Amanda De Santa appears as a Major Character and Companion in Grand Theft Auto V.
Amanda De Santa is Michael's wife, and the mother of Jimmy and Tracey. Her relationship with her husband is difficult, the two barely tolerating each other.
Amanda was working as a stripper and possibly a prostitute when she first met Michael Townley in a strip club owned by her mother. They began dating, got married, and then had two children together.
During that time, Michael led a career of bank-robbing alongside Trevor and Brad Snider. Fearing for his family's safety, in 2004 Michael made a deal with corrupt FIB agent Dave Norton to sell out his crew during a robbery, fake his death and then walk out a free man.
Living their new life in Los Santos, the relationship between Amanda and Michael becomes very sour, the two barely tolerating each other. Despite this, she remained faithful to Michael until she caught him having sex with a stripper, leading to her cheating as an act of revenge on Michael with many different men.
Her constant burning through Michael's funds and her affair with her Tennis Coach finally leads to a set of circumstances that force Michael to return to his life of crime. After another set of events that lead to her moving out with Fabien LaRouche and then reuniting with Michael, the two remain together and try their best to maintain a healthy relationship.
Amanda De Santa: Character Info
Gender

Female

Born In Year

1970 (43 years old in 2013)

Nationality

United States

Location

Portola Drive, Rockford Hills, Los Santos

Occupation

Housewife; Stripper (formerly); Prostitute (formerly)

Also Known As

Amanda Townley; Mandy

Performer / Actor

Vicki Van Tassel

Family

Affiliation

Fabien LaRoucheKyle Chavis

Property / Safehouse

De Santa Residence (Michael's Mansion)

Playability

Director Mode

Vehicle
Amanda De Santa: Appearances
Game Edition

GTA V Story Mode

Platforms

PC

PlayStation 4

Xbox One

PlayStation 3

Xbox 360
Amanda De Santa Missions in Grand Theft Auto V:

Appearances in Story Missions:
Amanda De Santa Screenshots
Amanda De Santa Artworks