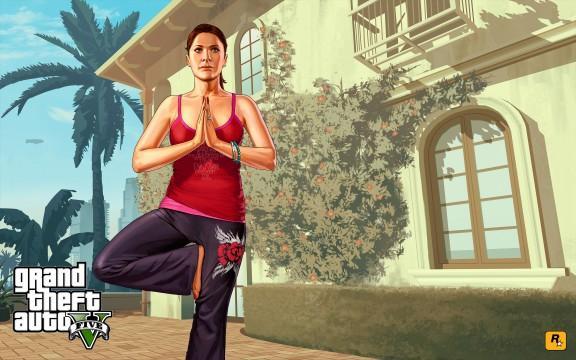 Amanda De Santa appears as a Major Character and Companion in Grand Theft Auto V.
Amanda De Santa is Michael's wife, and the mother of Jimmy and Tracey.
Amanda was working as a stripper and possibly a prostitute when she first met Michael. The relationship between Amanda and Michael has become very sour over the last decade and they barely tolerate each other.
Michael spends his time drinking, moping, and losing his temper at her. She spends his money freely on expensive clothing, jewelry, and plastic surgery, while verbally abusing him.
Her constant burning through Michael's funds and her affair with her Tennis Coach, leads to a set of circumstances that force Michael to return to his life of crime.
Amanda De Santa: Character Info
Gender

Female

Born In Year

1970 (43 years old in 2013)

Nationality

United States

Also Known As

Amanda Townley; Mandy

Performer / Actor

Vicki Van Tassel

Location

Portola Drive, Rockford Hills, Los Santos

Occupation

Housewife; Stripper (formerly); Prostitute (formerly)

Family

Affiliation

Fabien LaRoucheKyle Chavis

Property / Safehouse

De Santa Residence (Michael's Mansion)

Playability

Director Mode

Vehicle
Amanda De Santa: Appearances
Game Edition

GTA V Story Mode

Platforms

PC

PlayStation 4

Xbox One

PlayStation 3

Xbox 360
Amanda De Santa Missions in Grand Theft Auto V:

Appearances in Story Missions:
Amanda De Santa Screenshots
Amanda De Santa Artworks