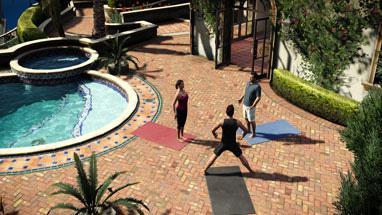 Did Somebody Say Yoga? is a main story mission in Grand Theft Auto V, involving protagonist Michael De Santa.
It's the 26° GTA V mission in chronological order, and it takes place in Los Santos.
Michael finds his inner peace.
Gold Medal Objectives (100%)
The following are the Mission Objectives required to obtain the Gold Medal in the mission "Did Somebody Say Yoga?":
Time: Complete within 15:00

Skip all cutscenes.
During Michael's freefall, pitch downwards to fall quicker.

Warrior: Complete the 1st yoga pose without fault.
Triangle: Complete the 2nd yoga pose without fault.
Praise the Sun!: Complete the 3rd yoga pose without fault.

Remember to not release the controls until told so to avoid failing poses.
Note: You can complete each Gold Medal requirement in multiple playthroughs of the mission. You don't need to obtain them all in one single playthrough.
Did Somebody Say Yoga? - Mission Details:
Michael is sitting at home, watching old films on T.V. Amanda gets annoyed at Michael for smoking at home and starts an argument with him over Trevor being back. Fabien walks in the room asking "Did somebody say yoga?". Amanda is about to start her yoga session with Fabien, who invites Michael to join and the latter agrees.
The trio all start the session, with Fabien guiding the pair through three yoga poses. For the fourth pose, Fabien asks Amanda to show the downward dog. Fabien does behind Amanda, making the pose look sexual. Michael gets annoyed by this and runs at Fabien, who dodges him, causing Michael to fall into the pool.
Amanda, annoyed, yells at Michael and leaves with Fabien. Michael goes to find Jimmy as he wants to hang with someone. Jimmy says he's got to go meet a friend and Michael says he'll tag along with Jimmy reluctantly allows him to do.
The pair head to Burger Shot, where Jimmy is picking up drugs from his friend Ahron. When they're about to leave, Jimmy asks for "the other thing". Ahron heads inside Burger Shot and comes back out with a drink. They get back into Michael's car and head back home.
On the way back, Michael has some of Jimmy's drink. However, the drink has been drugged. Michael pulls over as he's now too drugged to drive. Jimmy shoves him out of the car, tells Michael he's taken money from his account and is moving out. He drives off leaving Michael behind.
Michael passes out and is dragged away. When he awakens, he starts having vivid hallucinations. He finds himself surrounded by chimps. He gets up but immediately passes out again. He then gets beamed up and abducted by aliens. They then release him from their spaceship, leaving Michael freefalling across Los Santos.
He eventually comes round. Laying in a park in just his underwear. He runs back home, still a little hazy. Michael goes looking around for his family but doesn't find them. Amanda has left a note saying she, Jimmy and Tracey have moved out and they need their time away.
Did Somebody Say Yoga?: Mission Objectives
Compelte the Warrior yoga pose.
Complete the Triangle yoga pose.
Complete the Praise the Sun yoga pose.
Go to

Jimmy's room

.
Get in your

car

.
Go to

Burger Shot

.
Go back to

Michael's house

.
Did Somebody Say Yoga?: Mission Info
Mission Number

26

Mission Type

Mandatory Mission

Mission Giver

Michael De Santa

Protagonist (Playable)

Michael De Santa

Location

Michael's mansion, Rockford Hills

State / Area

Los Santos
Did Somebody Say Yoga?: Videos
PS3 / Xbox 360: Gold Medal Video Walkthrough
PS4 / Xbox One (First Person): Gold Medal Video Walkthrough
Did Somebody Say Yoga?: Screenshots
Coming soon.