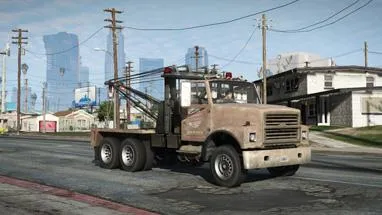 Tow Truck is a main story mission in Grand Theft Auto V given by Federal Investigation Bureau (FIB) , involving protagonist Michael De Santa, Franklin Clinton and Trevor Philips .
It's the 35° GTA V mission in chronological order, and it takes place in Los Santos.
Prep for an FIB operation.
Gold Medal Objectives (100%)
The following are the Mission Objectives required to obtain the Gold Medal in the mission "Tow Truck":
Time: Comlete within 03:00
Not a Scratch: Deliver the Tow Truck with no damage.
Truckin': Reach top speed in the Tow Truck.

Use Franklin's ability to get to top speed.
Note: You can complete each Gold Medal requirement in multiple playthroughs of the mission. You don't need to obtain them all in one single playthrough.
Tow Truck - Mission Details:
This mission can be completed using either Michael, Franklin or Trevor.
The tow truck is located at a repair shop on Elysian Island. A mechanic is working on a car next to the truck. You can either ignore them, knock them out or kill them. The best option is to knock them out so you don't gain any attention from the cop's.
Once in the truck, take it to the FIB warehouse at El Burro Heights. Get out of the truck and leave the area to complete the mission.
Tow Truck: Mission Objectives
Steal the

tow truck

.
Drive the truck to the

FIB lot

.
Tow Truck: Mission Info
Tow Truck: Videos
PS3 / Xbox 360: Gold Medal Video Walkthrough
PS4 / Xbox One (First Person): Gold Medal Video Walkthrough
Tow Truck: Screenshots