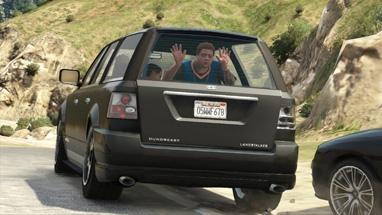 Parenting 101 (Family Event) is an optional story mission in Grand Theft Auto V given by Jimmy De Santa, involving protagonist Michael De Santa.
It's the 73° GTA V mission in chronological order, and it takes place in Los Santos.
This is a missable optional mission, which is not required for 100% completion of the game. It's time-sensitive, so it can only be played at this specific point in the story.
Rescue Jimmy from his kidnappers.
Gold Medal Objectives (100%)
There are no Gold requirements for this mission.
Parenting 101 (Family Event) - Mission Details:
Michael receives a call from Jimmy. Jimmy isn't directly talking to Michael but a stranger. Jimmy is apologising stating it's just an online persona and that he's been taken to Banham Canyon in a charcoal colour Landstalker. Michael realises Jimmys in trouble and goes to his location to help him.
He heads to the location and gets another call from Jimmy. He overhears a conversation between Jimmy and his kidnapper, a comedy writer. Jimmy has been trolling them on the internet and has had enough.
Once he's caught up, Michael keeps crashing into the car until the kidnappers leave the car and flee. Jimmy gets into Michael's car and drops him off at the Richman Hotel.
Parenting 101 (Family Event): Mission Objectives
Save

Jimmy

.
Trash the

kidnapper's car

.
Go to the

car

.
Take Jimmy

home

.
Parenting 101 (Family Event): Mission Info
Mission Number

73

Mission Type

Optional (Missable)

Mission Giver

Jimmy De Santa

Protagonist (Playable)

Michael De Santa

Location

Banham Canyon

State / Area

Los Santos
Rewards

Michael can hang out with Jimmy again

Featuring

Landstalker
Parenting 101 (Family Event): Videos
PS3 / Xbox 360: Gold Medal Video Walkthrough
PS4 / Xbox One (First Person): Gold Medal Video Walkthrough
Parenting 101 (Family Event): Screenshots
Coming soon.