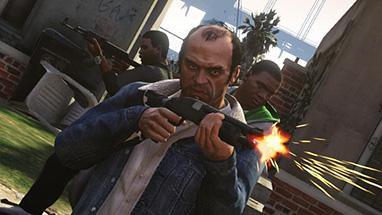 Hood Safari is a main story mission in Grand Theft Auto V given by Lamar Davis, involving protagonist Franklin Clinton and Trevor Philips.
It's the 25° GTA V mission in chronological order, and it takes place in Los Santos.
Franklin and Lamar show Trevor a typical South Los Santos neighborhood.
Gold Medal Objectives (100%)
The following are the Mission Objectives required to obtain the Gold Medal in the mission "Hood Safari":
Time: Complete within 07:00.

Skip all cutscenes.
Flee alone up the LS River.

Accuracy: Finish with a shooting accuracy of at least 70%.
Headshots: Kill 12 enemies with a headshot.
Note: You can complete each Gold Medal requirement in multiple playthroughs of the mission. You don't need to obtain them all in one single playthrough.
Hood Safari - Mission Details:
Franklin arrives home to Denise berating him for his disloyalty to the families recently. Lamar leaves Franklin's house and joins in with Denise, saying he's not doing enough for the hood. Trevor appears mid-conversation, gives Denise a few dollars to "get herself something nice" and tells her to leave.
Franklin gets annoyed at Trevor for his actions and asks what he's doing there. Trevor states he wants to make friends as he's new in town. Franklin just wants to go home but Lamar mentions "a thing" with Stretch and Trevor wants to get in on it.
The trio plus Chop get into a van and head to Grove Street. Lamar tells the group about the deal that's about to go down. They head to the house where the deal is happening. Lamar takes a sample of the drugs to make sure they're good but Trevor isn't sure of it all and asks for a taste of the other side of the brick of the drug. He tussles with the dealer, eventually breaking the brick to notice it's just drywall in the middle.
The dealer shouts that his deal has gone wrong, starting a gunfight in the street with neighbouring Ballas. Chop runs away from the action, with Trevor, Franklin and Lamar fighting their way out of Grove Street. The LSPD arrives on the scene, making the trio gain three-star heat. The group runs away from the street into the Los Santos River.
They hijack a couple of Seasharks and ride out to sea. After a hefty pursuit, the group decides to split up to enhance their chances of escaping. The mission ends once the heat has died down.
Hood Safari: Mission Objectives
Get in the

van

.
Go to

Grove Street

.
Go to the

house

.
Escape from Grove Street with

Lamar

and

Trevor

.
Follow

Lamar

.
Lose the Cops.
Take Franklin to his

house

. (If player escaped as Trevor with Franklin)
Take Trevor to the

Vanilla Unicorn

. (If player escaped as Franklin with Trevor)
Take Lamar to his

house

(If player escaped with Lamar)
Hood Safari: Mission Info
Mission Number

25

Mission Type

Mandatory Mission

Mission Giver

Lamar Davis

Protagonist (Playable)

Franklin ClintonTrevor Philips

Location

Franklin's House, Strawberry

State / Area

Los Santos
Rewards

Lamar as a contact for Trevor; Sea Races

Unlocked Items

Machine PistolSea Races
Hood Safari: Videos
PS3 / Xbox 360: Gold Medal Video Walkthrough
PS4 / Xbox One (First Person): Gold Medal Video Walkthrough
Hood Safari: Screenshots