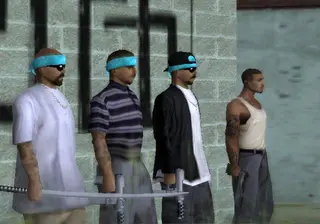 The Varrios Los Aztecas are a Gang featured in Grand Theft Auto: San Andreas.
The Aztecas are the secondary protagonist group of the game, affiliated with the GSF during the latters events of GTA: San Andreas.
Not much about their history is known, but it is thought that they root from the El Corona Neighborhood, their presence growing with Hispanic and Latino immigration to the area.
They are traditionally anti-narcotics, like the GSF, but are involved in gang warfare, gunrunning, illegal street racing and other crimes. They are easily recognizable by their turquoise-colored bandanas.
On the streets, they are armed with pistols and Micro SMG's, but will not attack CJ on sight, instead asking him about his gang banging status.
This Gang also appears in Grand Theft Auto V.
Varrios Los Aztecas: GTA SA Info
Varrios Los Aztecas: Appearances
Appearances in Story Missions: