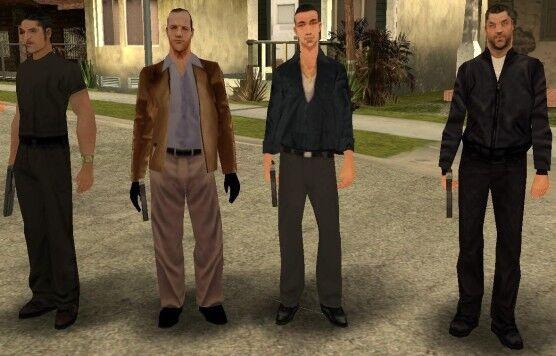 The Mafia is a Gang featured in Grand Theft Auto: San Andreas.
In San Andreas, three Italian mob families operate in Las Venturas, each of them having a stake in Caligula's Casino.
The Sindacco Family, the Leone Family and the Forelli Family argue over which should run the casino, so they put Ken Rosenberg forward as a neutral party.
The Triads have opened a new casino at the opposite end of The Strip, which will likely prove competition for Caligula's.
Mafia members only appear on the street if using cheats or mods.
This Gang also appears in Grand Theft Auto III.
The Mafia: GTA SA Info
Group Type

Gang

Faction Type

Cosa Nostra Mob Family

Nationality

Italy

Location

Las Venturas

Occupation

Caligula's Casino

Also Known As

Mob; Cosa Nostra

Gang Colors

Gray

Front Companies

Caligula's Casino

Members

Salvatore Leone Johnny Sindacco

Affiliation

Carl Johnson Ken Rosenberg Zero

Enemies

San Fierro Triads

Weapons

Desert Eagle
The Mafia: Appearances
Appearances in Story Missions: