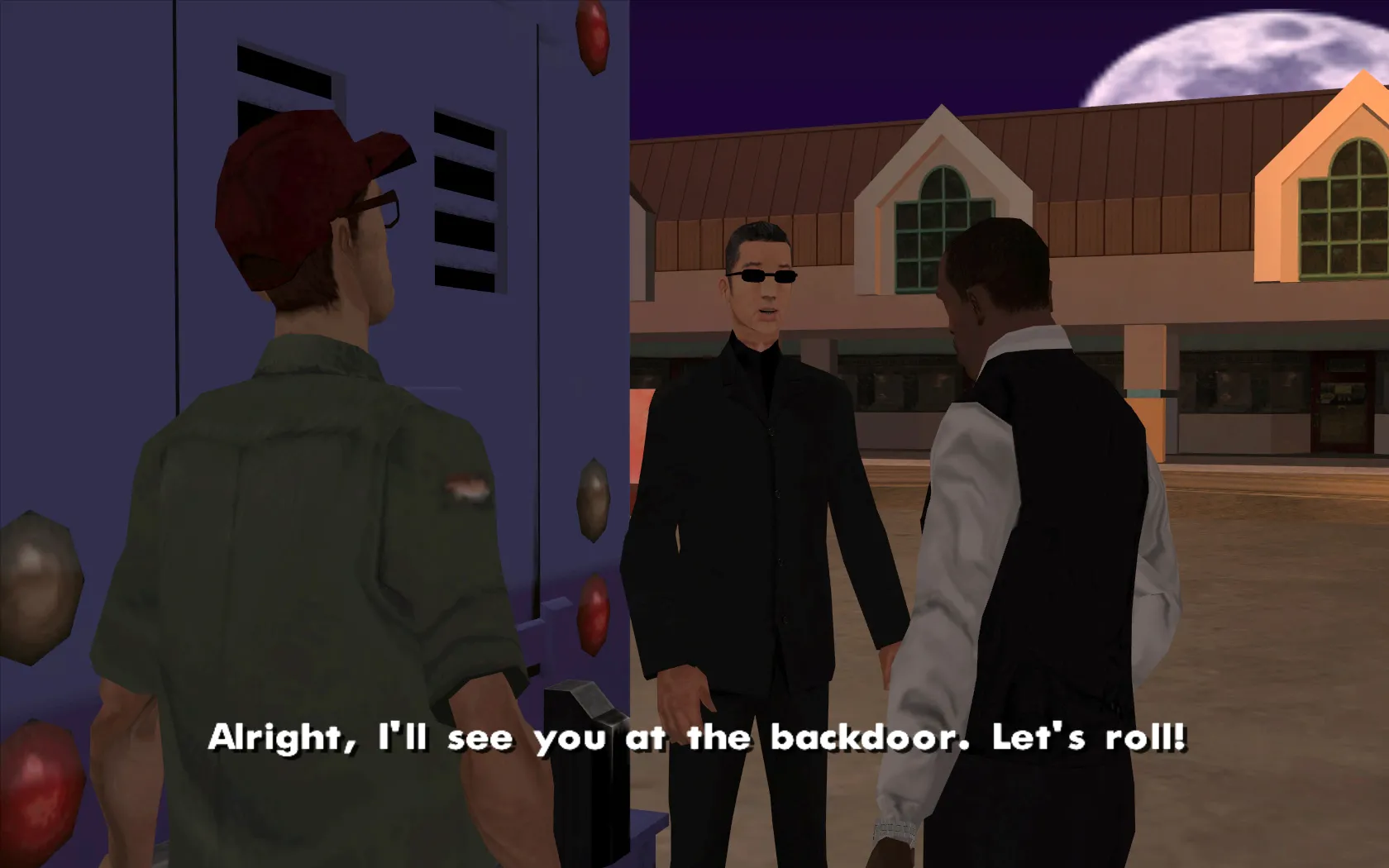 Breaking the Bank at Caligula's is an optional story mission in GTA San Andreas, given by Wu Zi Mu.
It's the 91° GTA San Andreas mission in chronological order, and it takes place in Las Venturas.
This is an optional mission, but it is required for 100% completion of the game.
Carl robs Caligula's Casino.
Breaking the Bank at Caligula's: Mission Objectives
Enter the Mafia Casino!
Avoid attracting attention in the casino or you'll blow your cover.
Find and open the swipecard door!
Find the swipecard door and open it.
Select the night-vision goggles and press (button) to activate.
You'll need something big to lift this door up.
Use the forklift to open the roller door.
You have 7 minutes to get the money and back!
Clear the corridors of security so the team can reach the vault.
Remember to stay close to the team.
Follow the team down to the vault.
Destroy the back up generators!
Head downstairs and check on the team!
Enter the Safe.
Kill the Mafia whilst the team gets the cash.
Lead the team safely back to the van.
Get to the service elevator - remember, you are the decoy.
Get onto the roof!
Follow the rooftops and collect the parachute.
Press (button) when falling to open the parachute.
Parachute off and escape in the helicopter.
Escape to the safe house.
Breaking the Bank at Caligula's: Mission Info
Mission Number

91

Mission Type

Side Mission (optional)

Mission Giver

Wu Zi Mu

Location

The Four Dragons Casino (The Strip); Caligula's Palace

State / Area

Las Venturas
Rewards

$100,000; Croupier Uniform; Respect +
Breaking the Bank at Caligula's: Video Walkthrough
Original Game Walkthrough (PS2, Xbox, PC):
The Definitive Edition Remaster Walkthrough: