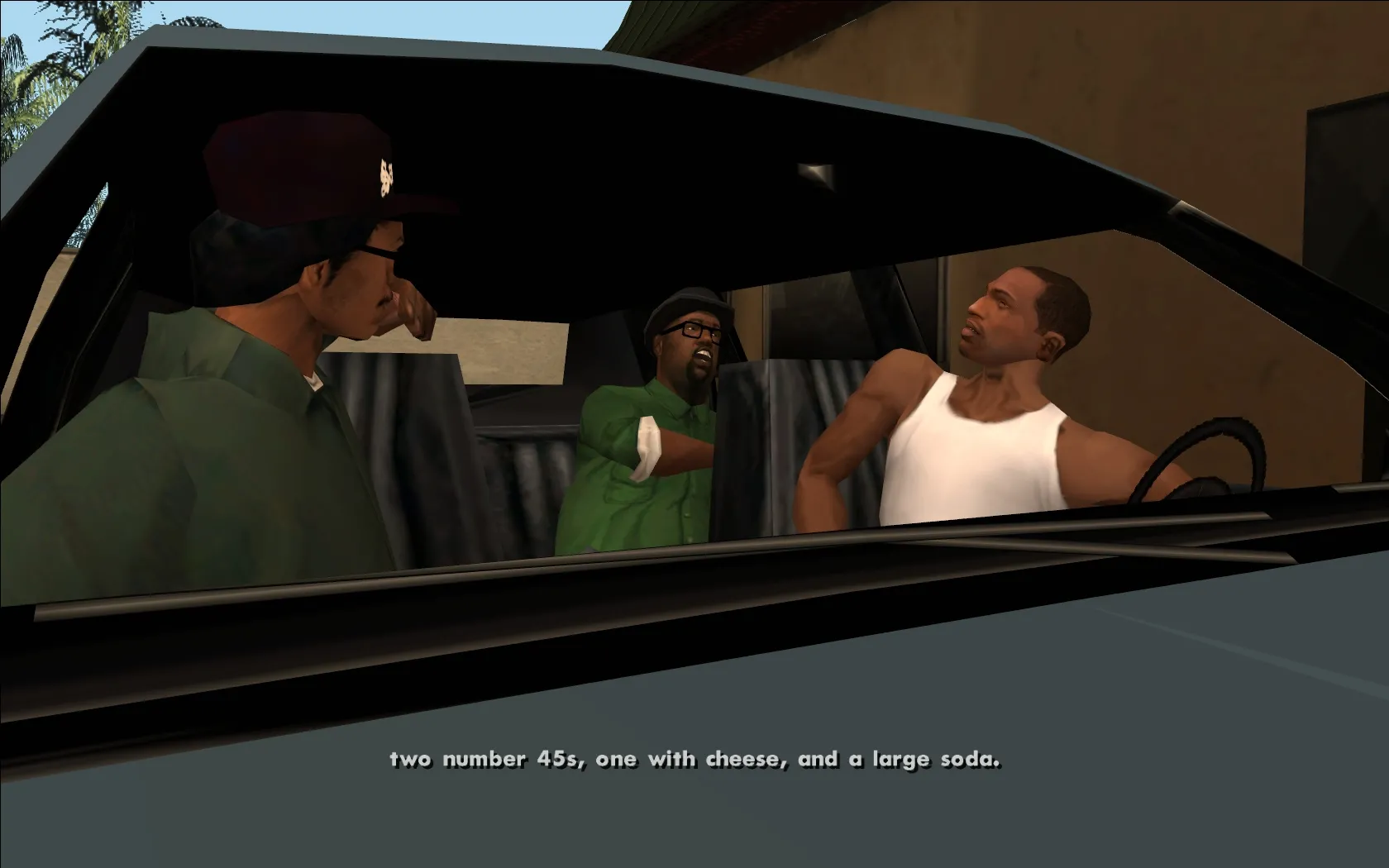 Drive-Thru is a main story mission in GTA San Andreas, given by Sweet Johnson.
It's the 6° GTA San Andreas mission in chronological order, and it takes place in Los Santos.
The gang stops Ballas from getting in to Grove Street
Sweet, CJ, Ryder and Big Smoke all meet up. Big Smoke decides that he's hungry, so the group all go to a local Cluckin' Bell for some food. Yes, this is the iconic Big Smoke order mission. CJ asks about his mother again, and Ryder mentions they were after Sweet with a Green Sabre.
As they're leaving Cluckin' Bell, Ryder notices some Kilo Tray Ballas are scoping them out in a car and heading towards Grove Street. Now the gang must get rid of the car and the Ballas inside. Once all Ballas has been eradicated, they all head back to the Grove.
While the Ballas were on their tail, all Big Smoke did was eat, which CJ and Sweet question. CJ takes Big Smoke back to his house and asks why he moved away from Grove Street, stating he got some money in a will, but Grove Street will always be like home to him.
Drive-Thru: Mission Objectives
Get in the car.
Drive to the Cluckin' Bell drive-thru.
Chase down the gang car before they cap your homies.
Kill the Ballas gang members.
Go back to Sweet's house.
Drive Smoke to his house.
Drive-Thru: Mission Info
Mission Number

6

Mission Type

Mandatory Mission

Mission Giver

Sweet Johnson

Location

Sweet's House (Ganton); Cluckin' Bell

State / Area

Los Santos
Rewards

$200; Gyms; Respect +

Unlocked Items

Gyms
Drive-Thru: Video Walkthrough
Original Game Walkthrough (PS2, Xbox, PC):
The Definitive Edition Remaster Walkthrough: