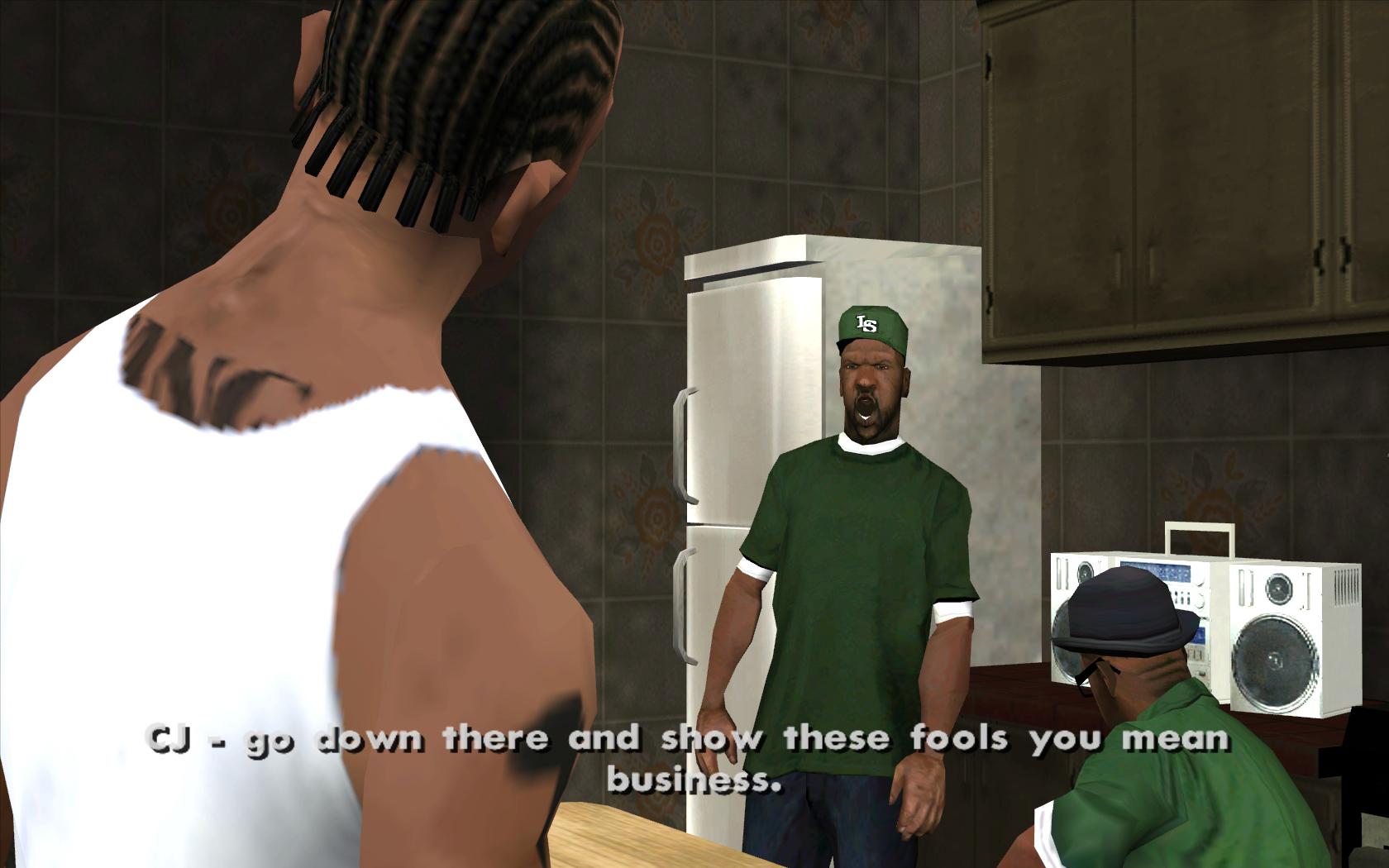 Cleaning the Hood is a main story mission in GTA San Andreas, given by Sweet Johnson.
It's the 5° GTA San Andreas mission in chronological order, and it takes place in Los Santos.
Ryder and Carl deal with some crack dealers in the local area
CJ goes to see Sweet, who is having an argument with Big Smoke about the drugs that are taking over the streets. Sweet wants CJ to deal with those that are dealing to Grove Street. Ryder and CJ head out together and go looking for B Dup and Big Bear, who are old members of the Grove Street Families that CJ wants to reunite with.
They go to a house in Ganton Courts, but CJ isn't warmly welcomed by B Dup and is told to go away. Big Bear is also present, which B Dup uses as his slave, telling him to clean his house. CJ tries to get Big Bear to come with them, but he's heavily under the influence of drugs and won't leave.
Instead, CJ and Ryder cruise about, finding a crack dealer selling to Grove Street. The pair deal with the dealer, who Ryder recognises. Remembering where he lives, the pair head to the dealer's house, which ends up being a crack den.
The pair deal with everyone inside, hindering the drug operation in the area. They head back to Grove Street, with the mission being a success.
Cleaning the Hood: Mission Objectives
Go to B Dup's crib.
Go beat up the crack dealer.
Go to the dealer's place.
Go beat up the crack dealer.
Go back to Sweet's house.
Cleaning the Hood: Mission Info
Mission Number

5

Mission Type

Mandatory Mission

Mission Giver

Sweet Johnson

Location

Sweet's House, Ganton

State / Area

Los Santos
Cleaning the Hood: Video Walkthrough
Original Game Walkthrough (PS2, Xbox, PC):
The Definitive Edition Remaster Walkthrough: