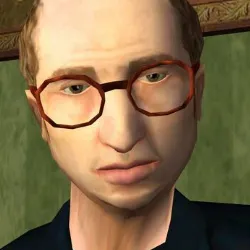 Ken Rosenberg appears as a Supporting Character in GTA San Andreas.
Ken Rosenberg is the manager of Caligula Palace, a casino in Las Venturas. Rosenberg employs Carl to stop a war breaking out between the three families that own the casino, the Leones, Forellis and Sindaccos.
The character of Ken Rosenberg also appears in GTA Vice City.
Ken Rosenberg: Character Info
Role

Supporting Character

Gender

Male

Born In Year

1953 (39 years old in 1992)

Nationality

United States

Location

Caligula's Casino, Las Venturas

Occupation

Lawyer

Also Known As

Rosie

Performer / Actor

William Fichtner

Family

Tony

-

Animal Companion
Ken Rosenberg: Appearances
Ken Rosenberg Missions in GTA San Andreas:

Appearances in Story Missions: