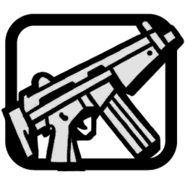 The SMG is a weapon in the Submachine Guns class featured in Grand Theft Auto: San Andreas. The design of the SMG in GTA San Andreas is based on a real life MP5A3.
This weapon also appears in Grand Theft Auto V, Grand Theft Auto IV and GTA Vice City.
SMG Description:
Based on the amazing MP5, which is widely considered one of the best Sub Machine Guns. the MP5 packs an impressive fire rate with great accuracy and strenght.
This weapon has three Skill Levels you can progress through: Poor, Gangster and Hitman. Reaching the Hitman level with the SMG allows you to Dual Wield, effectively doubling firepower, increases the lock-on range, and allows you to fire while moving.
How to get the SMG in GTA San Andreas:
The SMG can be found and picked up around the San Andreas map (see the spawn locations in the "Appearances" section below).
The SMG can also be purchased from Ammu-Nation for a price of $2,000 (or 20% higher in Las Venturas).
SMG: GTA SA Statistics
Damage

25.00

Fire Rate

50.00

Accuracy

15.00

Range

40.00
Skill Levels

Yes

Can Crouch

Yes

Can Strafe

Hitman LVL

Can Jump

Yes

Can Sprint

Yes

Ammo Capacity

30
SMG: GTA SA Info
Weapon Class

Submachine Guns

Fire Type

Instant Hit

Story Mode Price

$2,000

Weapon Slot

5

Weapon Tier

Tier 3 (Nutter Cheat Set)

Based on (Real Life)

MP5A3
Notes

The SMG can be Dual Wield after reaching the Hitman skill level with the weapon.
SMG: GTA SA Appearances
Map Locations (Spawn Areas)

Here is where to find the SMG in GTA San Andreas:

Found in Jefferson, Los Santos, on the roof of the Jefferson Motel.
Found at Las Colinas, Los Santos, on a deck.
Found at the Unity Station in El Corona, Los Santos, beside a hedge in the inner part of the parking lot.
Found in Montgomery, Red County, near a back door of the burned apartment building.
Found in Ocean Flats, San Fierro, in the back garden of a green house, in the district's south-eastern part.
Found in El Quebrados, Tierra Robada, in an alleyway west of the Pay 'n' Spray.
Found at the Starfish Casino in Las Venturas, in the carpark.
Found at Come-A-Lot, Las Venturas, near a wall.
Found at the Four Dragons Casino in Las Venturas, outside the entrance (if all 50 Horseshoes are collected).
Available for purchase at Ammu-Nation for $2,000 after "Doberman".
Seen in use by enemy gangs during Gang Warfares.
Can be seen used by the FBI.
Used by Grove Street Families gang members (after Spray Painting all the Tags).

Similar Weapons