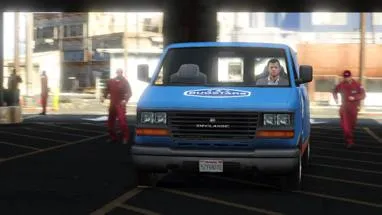 Bugstars Equipment is a main story mission in Grand Theft Auto V given by Lester Crest, involving protagonist Michael De Santa.
It's the 13° GTA V mission in chronological order, and it takes place in Los Santos.
This is a Heist Setup mission that is played depending on the approach selected for The Jewel Store Job (Smart Approach).
Prepare for the Jewel Heist.
Gold Medal Objectives (100%)
The following are the Mission Objectives required to obtain the Gold Medal in the mission "Bugstars Equipment":
Sneaky Pest: Steal the Bugstars van without being detected.

Sneak in from the back, knock out the driver and drive out through the back.
Note: You can complete each Gold Medal requirement in multiple playthroughs of the mission. You don't need to obtain them all in one single playthrough.
Bugstars Equipment - Mission Details:
Lester texts Michael, letting him know there are some vans at the Bugstar warehouse in the Port of Los Santos. He makes him aware that there is security at the warehouse so Michael can either sneak in or take down the security.
Once at the warehouse, it's up to the player on how they wish to obtain the van. Once the van has been stolen, Michael drives it back to Darnell Bros and calls Lester to let him know the van has been delivered.
Bugstars Equipment: Mission Objectives
Steal and deliver a

Bugstars van

.
Deliver the van to the

garment factory

.
Bugstars Equipment: Mission Info
Mission Number

13

Mission Type

Branching Choice

Mission Giver

Lester Crest

Protagonist (Playable)

Michael De Santa

Location

Darnell Bros., La Mesa

State / Area

Los Santos
Heist Finale

Featuring

Bugstars BurritoBurrito

Notes

This is a branching mission that is played when choosing The Jewel Store Job (Smart Approach).
Bugstars Equipment: Videos
PS3 / Xbox 360: Gold Medal Video Walkthrough
PS4 / Xbox One (First Person): Gold Medal Video Walkthrough
Bugstars Equipment: Screenshots
Coming soon.