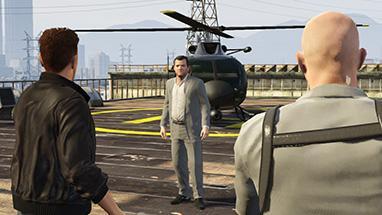 Mr. Richards is a main story mission in Grand Theft Auto V given by Solomon Richards, involving protagonist Michael De Santa.
It's the 39° GTA V mission in chronological order, and it takes place in Los Santos.
Michael gets his first job in the movie business.
Gold Medal Objectives (100%)
The following are the Mission Objectives required to obtain the Gold Medal in the mission "Mr. Richards":
Time: Complete within 10:00.

Skip all cutscenes.
Fly directly to the studio.

Silent Assassin: Kill 3 enemies using stealth attacks.

Easily done, as alerting the guards fails the mission.

Can't Touch This 2.0: Take no damage during the fight with Rocco.

Repeatedly punch Rocco to avoid counter attacks.

Perfect Touchdown: Land the Frogger without damaging it.
Note: You can complete each Gold Medal requirement in multiple playthroughs of the mission. You don't need to obtain them all in one single playthrough.
Mr. Richards - Mission Details:
Michael goes to the Backlot City movie studio to meet up with Solomon. Solomon and Michael bond over their love for movies but Solomon is wary that Michael's only there to 'bump him off". Michael explains that not the case. Solomon tells Michael that people have been wanting him to retire so the studio can be turned into condos or a theme park.
Solomon explains his plan for his current project but has a problem with one of his actors, Milton McIlroy. Solomon cast him because he was cheap but Milton's new agent, Rocco Pelosi is demanding more money and Milton is holding up acting till he is paid. The film's director, Anton Beaudelaire, is also causing Solomon trouble. He had a breakdown and has halted production.
Michael decides to help out Solomon with his problems. He heads to a location in East Los Santos where Rocco, Milton and Anton are. On the way over, Solomon calls to say the trio are expecting trouble so Michael agrees to stealthy enter the building they're holed up in.
The three are on the roof, near a helipad. Michael quietly heads up the roof, taking out workers on the way so no one is alerted that Michael is there. Once on the roof, Michael gets in a punch up with Rocco, eventually beating him. Rocco runs away and Michael pilots the helicopter on the roof that Milton and Anton are in.
Anton and Milton state they aren't going back so Michael drives the helicopter erratically to scare them into going back. His plan works and the three of them head back to the studio. Solomon greets the three of them and Milton reluctantly apologises. Solomon decides he wants to keep Michael on and will be in contact soon.
Mr. Richards: Mission Objectives
Go to

East Los Santos

.
Reach the

helipad

without alerting Rocco.
Beat up

Rocco

.
Get in the

helicopter

.
Change Milton and Anton's minds by flying erratically.
Go back to the

studio

.
Go to Solomon's

office

.
Mr. Richards: Mission Info
Mission Number

39

Mission Type

Mandatory Mission

Mission Giver

Solomon Richards

Protagonist (Playable)

Michael De Santa

Location

Richards Majestic Productions, Backlot City

State / Area

Los Santos
Unlocked Items

Marksman PistolMusket
Mr. Richards: Videos
PS3 / Xbox 360: Gold Medal Video Walkthrough
PS4 / Xbox One (First Person): Gold Medal Video Walkthrough
Mr. Richards: Screenshots
Coming soon.