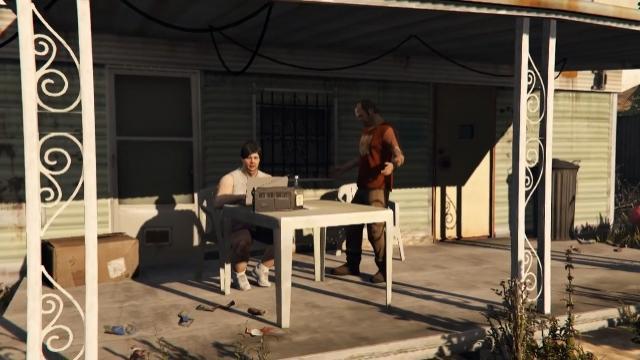 Bail Bonds 4 - Curtis Weaver is a Strangers & Freaks side mission in Grand Theft Auto V given by Maude Eccles, involving protagonist Trevor Philips.
It's the 4° mission for Maude Eccles, after the Bail Bonds 3 - Glenn Scoville mission.
This is an optional mission, not required for 100% completion of the game.
Bail Bonds 4 - Curtis Weaver - Mission Details:
Trevor captures Curtis Weaver for Maude.
Maude gives the details of a fourth and final target to Trevor called Curtis Weaver. He's hiding out at the Dignity Village near Paleto Bay.
When Trevor arrives on the scene, he'll call out for Curtis, causing Curtis to fire a few shots at Trevor. When he's unsuccessful at landing any shots, he'll start running away. The best thing for Trevor to do is shoot him with a Stun Gun. Curtis will then eventually surrender.
Once he's been captured, drive him back to Maude's to collect a reward of $10,000.
Trevor can kill Larry but then his reward will only be $5,000.
Gold Medal Objectives (100%)
There are no Gold requirements for this mission.
Bail Bonds 4 - Curtis Weaver: Mission Objectives
Take the bail jumper to

Maude's place

.
Bail Bonds 4 - Curtis Weaver: Mission Info
Mission Type

Strangers and FreaksHobbies & Pastimes

Mission Giver

Maude Eccles

Protagonist (Playable)

Trevor Philips

Location

Dignity Village

State / Area

Blaine County

Required for 100%

No
Rewards

$10,000 if alive, $5,000 if dead

Notes

Not required for 100% completion of the game. The mission cannot be replayed afterwards, as it's done as a free roam activity
Bail Bonds 4 - Curtis Weaver: Videos
PS3 / Xbox 360: Gold Medal Video Walkthrough
PC: Gold Medal Video Walkthrough