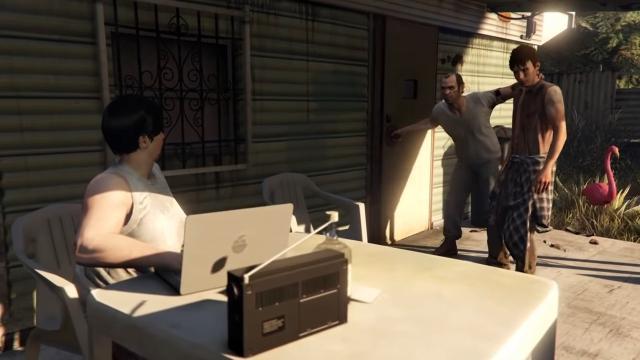 Bail Bonds 2 - Larry Tupper is a Strangers & Freaks side mission in Grand Theft Auto V given by Maude Eccles, involving protagonist Trevor Philips.
It's the 2° mission for Maude Eccles, after the Bail Bonds 1 - Ralph Ostrowski mission.
This is an optional mission, not required for 100% completion of the game.
Bail Bonds 2 - Larry Tupper - Mission Details:
Trevor captures Larry Tupper for Maude.
Maude emails Trevor, giving him the details of another reprobate called Larry Tupper. Larry is hiding out at an old barn south of Sandy Shores. Larry is an old acquaintance of Trevor's and used to buy drugs from Trevor before finding a new dealer.
At the barn, Larry has been joined by some of his gang members. Take out the gang members and chase down Larry. Be careful as police may be called to the scene if gunshots are heard. The best way to take out Larry is with a stun gun.
Once he's been captured, drive him back to Maude's to collect a reward of $10,000.
Trevor can kill Larry but then his reward will only be $5,000.
Gold Medal Objectives (100%)
There are no Gold requirements for this mission.
Bail Bonds 2 - Larry Tupper: Mission Objectives
Take the bail jumper to

Maude's place

.
Bail Bonds 2 - Larry Tupper: Mission Info
Mission Type

Strangers and FreaksHobbies & Pastimes

Mission Giver

Maude Eccles

Protagonist (Playable)

Trevor Philips

Location

Grand Senora Desert

State / Area

Blaine County

Required for 100%

No
Rewards

$10,000 if alive, $5,000 if dead

Featuring

Gauntlet

Notes

Not required for 100% completion of the game. The mission cannot be replayed afterwards, as it's done as a free roam activity
Bail Bonds 2 - Larry Tupper: Videos
PS3 / Xbox 360: Gold Medal Video Walkthrough
PC: Gold Medal Video Walkthrough