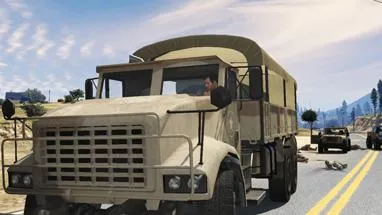 Military Hardware is a main story mission in Grand Theft Auto V given by Federal Investigation Bureau (FIB), involving protagonist Michael De Santa and Trevor Philips.
It's the 45° GTA V mission in chronological order, and it takes place in Blaine County.
Prepare for the Paleto Score.
Gold Medal Objectives (100%)
The following are the Mission Objectives required to obtain the Gold Medal in the mission "Military Hardware":
Head Hunter: Kill 5 enemies with a headshot.
Sticky Strategist: Stop the convoy using a sticky bomb trap.

Block the road with your vehicle ahead of the convoy. Set sticky bombs on the road in front of your vehicle. When the convoy approaches, set off the sticky bombs to destroy the first car. Kill the rest of the guards and steal the Barracks.
Note: You can complete each Gold Medal requirement in multiple playthroughs of the mission. You don't need to obtain them all in one single playthrough.
Military Hardware - Mission Details:
This mission can be played as either Michael or Trevor.
The gang need military hardware in order to pull off The Paleto Score. A convoy consisting of a Barracks and two Crusaders are travelling through the Grand Senora Desert. The player needs to steal the Barracks as it is holding the military hardware.
The convoy can be intercepted at any point throughout its journey. The guards travelling with the Barracks will attack once the truck has been stolen so it is best to eliminate them prior to hijacking the Barracks.
Once in the truck, drive it back to Trevor's meth lab. Get out of the truck to complete the mission.
Military Hardware: Mission Objectives
Intercept the

military hardware

.
Go to the

meth lab

.
Take out the remaining

guards

.
Military Hardware: Mission Info
Mission Number

45

Mission Type

Mandatory Mission

Mission Giver

Federal Investigation Bureau (FIB)

Protagonist (Playable)

Michael De SantaTrevor Philips

Location

Grand Senora Desert

State / Area

Blaine County
Heist Finale

Unlocked Items

Combat PDW
Military Hardware: Videos
PS3 / Xbox 360: Gold Medal Video Walkthrough
PS4 / Xbox One (First Person): Gold Medal Video Walkthrough
Military Hardware: Screenshots
Coming soon.