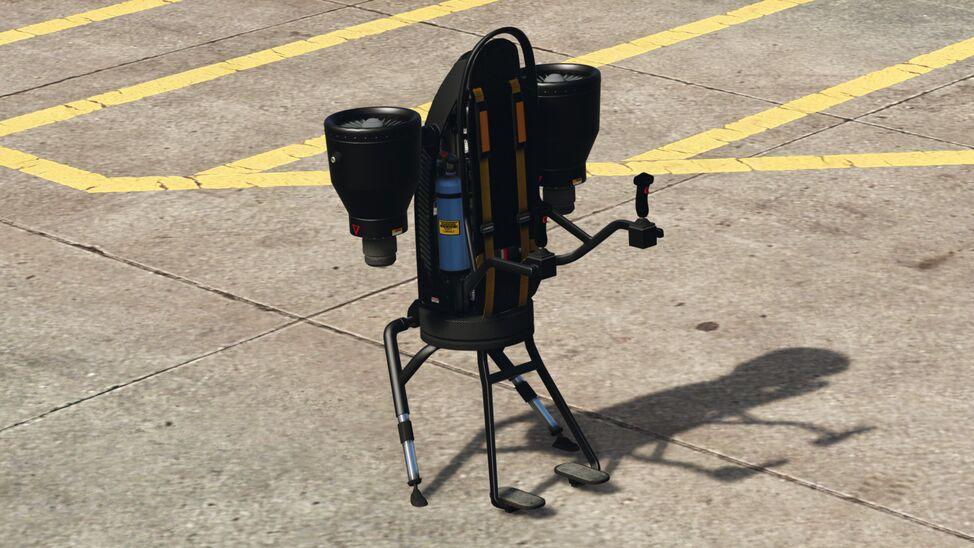 The Mammoth Thruster Jetpack is a flying weaponized Military vehicle featured in GTA Online, added to the game as part of the 1.42 The Doomsday Heist update on December 12, 2017.
It's equipped with a Rocket Boost, that can be used for very quick acceleration and as a rechargeable speed boost.
This vehicle also appears in GTA San Andreas.
How to get the Thruster Jetpack in GTA Online:
The Thruster Jetpack can be purchased in GTA Online from Warstock Cache & Carry for a price of $3,657,500.
The Thruster Jetpack can be stored in the Facility Property. It can only be customized at the dedicated Vehicle Workshop in the Facility Property.
Once acquired, you can request the delivery of the Thruster Jetpack from the Mechanic.
How to unlock the Thruster Jetpack Trade Price?
A trade price of $2,750,000 (Discounted)* can be unlocked for the Thruster Jetpack.
*The discounted SecuroServ Trade Price for the Thruster Jetpack is unlocked after the player has completed the related Doomsday Heist Mission (requires a Facility Property).
The Thruster can be fitted with weapons such as a Maching Gun and Homing Missiles, as well as countermeasures.
Mammoth

Thruster Jetpack in Real Life:

The design of the Mammoth Thruster Jetpack is based on a real life Martin Jetpack P12.
Mammoth

Thruster Jetpack Top Speed:

The actual top speed of the Thruster Jetpack in GTA V is 126.00 mph (202.78 km/h) when it's fully upgraded, as it's been accurately tested in-game by Broughy1322.
Can you sell the Thruster Jetpack in GTA Online?
No, you cannot sell the Thruster Jetpack. Unfortunately in GTA Online it's not possible to sell Special Vehicles, Pegasus, or Facility Vehicles.
Thruster Jetpack: GTA V Vehicle Info
Vehicle Class

Military

Manufacturer

Mammoth

Vehicle Features

CountermeasuresFlying Car / BikeHas LiveriesHas Trade PriceHoming MissilesHover ModeRocket BoostUnique Radar IconWeaponized Vehicle

Acquisition

Warstock Cache & Carry

GTA Online Price

$3,657,500

Trade Price

$2,750,000

(Discounted)*

Storage Location

Facility Property

Delivery Method

Mechanic

Modifications

Point of Storage

Sell

Cannot be sold

Race Availability

Special Vehicle RacesTransform Races Only

Top Speed - Game Files

99.42 mph (160.00 km/h)

Based on (Real Life)

Martin Jetpack P12
Seats

1

Mass / Weight

301

KG
Thruster Jetpack: GTA V Performance
The below Top Speed & Lap Time have been accurately tested by
Broughy
.
Top Speed - Real

126.00 mph (202.78 km/h)

Lap Time

1:42.318

Bulletproof

No

Explosive Resistance

Amount of explosives required to destroy the Thruster Jetpack, with 100% armor, and occupied by a player:

| Explosive Weapon | Amount |
| --- | --- |
| Homing Launcher / Oppressor Missiles / Jet Missiles | 1 |
| RPG / Grenades / Sticky Bomb / MOC Cannon | 1 |
| Explosive Rounds (Heavy Sniper Mk II) | 2 |
| Tank Cannon (Rhino / APC) | 1 |
| Anti-Aircraft Trailer Dual 20mm Flak | 1 |
Thruster Jetpack Description:
Since the dawn of time mankind has looked to the skies and longed for a way to hover there, totally exposed, deafened by an unstable mixture of jet fuel and naked flame, idly strafing the rush hour traffic. Well now that dream has thrust its way, crotch first, into reality. So what are you waiting for?
Please note: This vehicle must be stored in a personal facility and can be modified at the Facility Vehicle Workshop.
Thruster Jetpack: GTA V Appearances
Release Date

December 12, 2017

DLC / Title Update

1.42 The Doomsday Heist

Game Edition

GTA Online

Platforms

PC

PlayStation 4

Xbox One
Notable Owners:

Military
Model ID

thruster

Notes

*The discounted SecuroServ Trade Price for the Thruster Jetpack is unlocked after the player has completed the related Doomsday Heist Mission (requires a Facility Property)

Thruster Jetpack: Vehicle Customization

Total Cost to Fully Upgrade in GTA Online

$664,850

Modification
GTA Online Price
Armor

No Armor

$1,000

Armor Upgrade 20%

$7,500

Armor Upgrade 40%

$12,000

Armor Upgrade 60%

$20,000

Armor Upgrade 80%

$35,000

Armor Upgrade 100%

$50,000

Engine

EMS Upgrade, Level 1

$9,000

EMS Upgrade, Level 2

$12,500

EMS Upgrade, Level 3

$18,000

EMS Upgrade, Level 4

$33,500

Countermeasures

None

$700

Chaff

$70,000

Flare

$110,000

Livery

None

$11,400

Basic Camo

$18,240

Zancudo Camo

$19,380

Sprayed Camo

$20,520

3 Color Outline

$21,660

90s Sandbox

$22,800

Modern 5 Color

$23,370

Arid Theater

$23,939

Winter Camo

$24,510

Urban Warrior

$25,080

Nature Reserve

$25,650

Naval Battle

$26,220

Urban Geometric

$26,789

Coyote Geometric

$27,360

Large Geometric

$27,930

Naval Geometric

$28,500

Desert Fractal

$29,070

Urban Fractal

$29,639

Large Digital

$30,210

Medium Digital

$30,780

Small Digital

$31,350

Skulls

Reward

Knuckleduster

?

Conveyor

?

Stars

?

Tartan

?

Galaxy

Reward

Trees Camo

Reward

Candy Cane

Reward

It's a Wrap

Reward

Deck the Halls

Reward

Pink & Green Camo

?

Yellow & Blue Camo

?

Orange Shade Camo

?

Blue & Green Camo

?

Hunting Camo

?

Blue Tartan

?

Santo Capra Coins

?

Sessanta Nove Monogram

?

Sessanta Nove Multi-color

?

Dolla Dolla

?

Respray
See the full list of the available Respray options »
Weapons

No Weapons

$700

Dual .50 Cal Miniguns

$195,000

Missiles

$240,000

Thrust

None

$700

JATO

$200,000
Thruster Jetpack: GTA V Screenshots
Thruster Jetpack: Custom Paint Jobs
Artworks & Promotional Posters
Thruster Jetpack Video