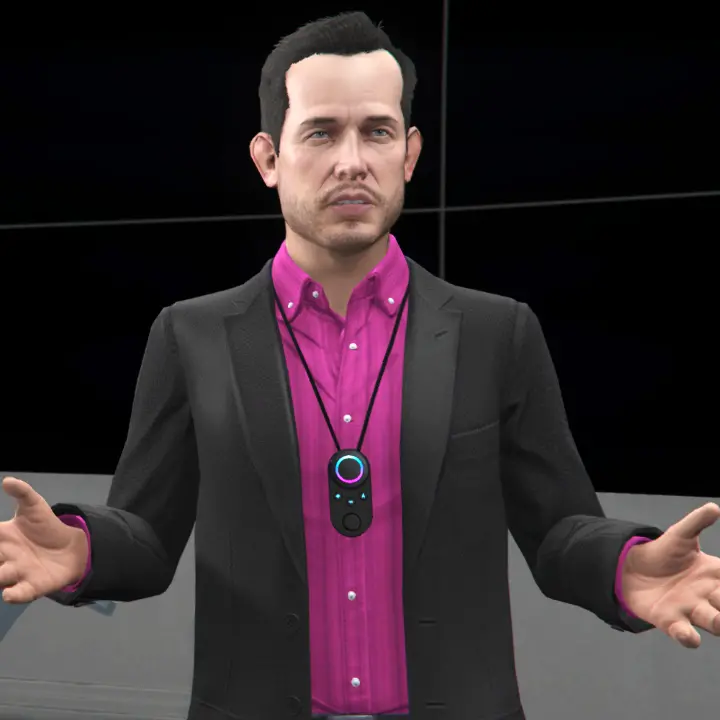 Avon Hertz is a character that appears as a Antagonist in GTA Online, introduced on December 12, 2017 as part of the 1.42 The Doomsday Heist update.
Avon Hertz is an American billionaire who made his money in the tech industry. He is the creator of Clifford, an AI neural network, and was previously a tech consultant for the IAA.
He recruits the GTA Online protagonist alongside Lester, Agent 14 and Agent Rackman to "help save San Andreas from an upcoming terror attack and prevent a regional war from taking place", but he is instead revealed to be the actual antagonist of the Doomsday Heist, betraying his team.
Avon Hertz: Character Info
Role

Antagonist

Gender

Male

Born In Year

1979 (34 years old in 2013)

Nationality

United States

Location

Los Santos

Occupation

Tech Mogul; CEO (possibly)

Also Known As

Dad/Daddy; Avon Quartz

Performer / Actor

Sean McGrath

Affiliation

Agent 14Lester Crest

Vehicle
Avon Hertz: Appearances
Release Date

December 12, 2017

DLC / Title Update

1.42 The Doomsday Heist

Game Edition

GTA Online

Platforms

PC

PlayStation 4

Xbox One
Avon Hertz Screenshots
Avon Hertz Artworks
Coming soon.
Avon Hertz Video