Release Date

June 13, 2023

Game Edition

GTA Online

Platforms

PC

PlayStation 5

Xbox Series X|S

PlayStation 4

Xbox One
The GTA Online Summer 2023 DLC, called "San Andreas Mercenaries", is the newest action-packed update, spanning the streets, seas, and skies on June 13, 2023.
The San Andreas Mercenaries update adds new Story Missions, Freemode content, updates to the Smuggler Hangar business, a PS5 & Xbox Series X|S exclusive Career Progress feature, as well as a range of experience improvements and creator updates.
Below you find everything that is included in the new GTA Online 'San Andreas Mercenaries' Update (GTA V Title Update 1.67), with all Contents, Patch Notes, Screenshots, Trailers, and more.
GTA Online Mercenaries Update: New Missions
Take flight alongside a team of elite pilots and ex-military operators to battle against the monolithic forces of San Andreas' largest private military, the Merryweaher.
Expert aircraft mechanic and ace pilot Charlie Reed put together a squadron of proficient aviators and guns-for-hire, known as the "Los Santos Angels", to take on new lucrative private work, stealing sensitive data from server farms, conducting raids, and dropping explosive payloads on high-value targets across the state.
Players can purchase and install the new Operations Terminal inside their Mammoth Avenger to form the 'Los Santos Angels' group with Charlie Reed
Via the Operations Terminal, players can launch six new 'Project Overthrow' Story Missions and three new Freemode 'LSA Operations'
LSA Operations can be launched in Freemode by calling Charlie Reed
The new Story Missions are 1-4 players
The next action-packed GTA Online update also includes new random events and daily time trials.
Five new RC Bandito Time Trials have been added to the existing rotation. These Trials also now rotate daily, allowing players to claim the par time reward each day
GTA Online Summer Update 2023: New Vehicles
A total of 14 new vehicles are included with the "San Andreas Mercenaries" Update - 7 of these are available at launch, and the others will be released in the subsequent weeks and months.
Three of these vehicles can be customized with Imani Tech, and two of these are also eligible for the HSW Upgrades at Hao's Special Works Auto Shop (the Maibatsu MonstroCiti and the Grotti Stinger TT).
GTA Online Summer Update 2023: New Weapons & Cosmetics
A brand-new Tactical SMG perfect for firing while driving, has been added to GTA Online with the Mercenaries Update. It is available from the Gun Van.
Exclusive Clothing: A new "GTAV Anniversary" section has been added to the "Special Tops" category, as well as a "Career Progress" section featuring outfits from Story Mode worn by Michael, Franklin, and Trevor, as well as Niko Bellic and Claude.
160+ pieces of male clothing and accessories have been added to clothing stores
220+ pieces of female clothing and accessories have been added to clothing stores
2 new male hairstyles have been added
1 new female hairstyle has been added
GTA Summer Update 2023: Experience Improvements
Building off the adjustments made with the previous Criminal Enterprises and Los Santos Drug Wars updates, based on player feedback, this Summer's GTA Online update comes with additional quality-of-life upgrades to improve the online experience.
Smuggler Hangar Updates
Several updates have been made to the Smuggler Hangar:
New land-based Source and Sell Cargo Missions have been added. These can be selected via the Free Trade Shipping Co. website, allowing players to engage with their Smuggling business in an entirely land-based manner
A new staff member, Rooster McCraw, has been added to Hangars, and he can be sent to source cargo for a small fee
Source Cargo Missions can now be launched in Freemode by calling Ron
The Smuggling business Setup Mission can now be bypassed for a small fee
The Mk II Weapon Workshop is now included with the Hangar's Workshop upgrade
Additional weapon pickups have been added to the Hangar
An additional entry point to the Flight School has been added to owned Hangars
Avenger Updates
In addition to the Operations Terminal, the Mammoth Avenger has received new updates and upgrades for purchase:
The Avenger can now be purchased without owning a Facility beforehand
The Avenger can now be stored inside an owned Hangar
The following upgrades for the Avenger can now be purchased inside an owned Hangar with a Workshop upgrade:
Pilot Operated Machine Guns
Pilot Operated Missiles
Stealth Module Autopilot Defense
Missile Lock-On Jammer Autopilot Defense
A Mammoth Thruster can now be stored inside the Avenger as a support vehicle and requested in Freemode
Other Vehicle Updates
Players can now claim all destroyed vehicles at once when calling Mors Mutual Insurance
Mors Mutual no longer charges for recovering Personal Vehicles destroyed during contact missions.
Mors Mutual Insurance will now text new players and outline how to claim their destroyed personal vehicle
Players can now add Custom description tags for garages to help quickly locate their favorite rides when calling the Mechanic.
Ability to select from individual floors when requesting vehicles from the Eclipse Blvd Garage.
Pressing D-Pad Right now engage Stealth Mode on the new F-160 Raiju Plane.
Vertical Take-Off and Landing (VTOL) has been moved to L3/LS: holding L3/LS when flying all VTOL aircraft will switch it into and out of VTOL mode.
The option to re-request an active Mobile Operations Center, Avenger, or Terrorbyte delivered closer to your location via the Interaction Menu.
Additional filters for Race types when browsing the Jobs Menu.
The Willard Eudora and Albany Classique Broadway are now eligible for Taxi Work when using Taxi Liveries.
Previously limited-time vehicles are now available for general purchase:
Removed Vehicles From Websites
Prior to the update, Rockstar announced that "lesser-used vehicles would be removed from in-game websites to streamline the browsing experience". They mentioned that "these vehicles would be made available via events showrooms, The Lucky Wheel, and other places".
However, the list of removed vehicles is much more substantial than Rockstar seemed to suggest, with nearly 200 cars that are now no longer available for purchase - a decision that has obviously not been received well by the community.
The total number of vehicles removed from the in-game websites is 194 vehicles. 71 of them can still be stolen off the street, but 123 are now completely unobtainable.
Check out our dedicated article to see the full list of removed vehicles that can no longer be purchased in-game, along with a few alternative methods to still acquire them.
Gameplay Updates
A new Register as a Boss option in the Interaction Menu, to make it quicker and easier to start an Organization or Motorcycle Club.
Players can now quickly register as a Boss at any owned business computer
A Buy All option when purchasing Body Armor at Ammu-Nation. Rank requirements for Body Armor have also been removed.
Body Armor will be restocked after Quick Restarting a mission, matching the same Body Armor levels as when first entering the lobby.
When equipping Body Armor via the Weapon Wheel, the type of Armor used will be relative to how much damage the player has taken.
When parachuting or in freefall, players will no longer receive phone calls from Tom Connors or English Dave.
Madrazo Dispatch Services no longer requires multiple players and can be taken on solo.
Alternative sprint control (hold to sprint) in the Settings Menu.
Players are now able to select a name for their Acid Lab product (via the Interaction Menu) to receive a 5% sell bonus.
Rank requirements for Daily Objectives has been removed to allow more players to participate.
Map blips for properties now only appear on the map at shorter ranges
Players can now join private takeovers at the LS Car Meet via a new option on the entry menu
Players can now filter for Open Wheel and Hao's Special Works races in the Online – Races menu
QR Code Sign In: To make signing in easier on consoles without having to rely on in-console web browsers, players can now choose to sign in via mobile or web browser by scanning a QR code and inputting a one-time code. This is also aimed to reduce the amount of time it takes for a user to create an account and enhance security on consoles.
Balancing Updates
Payouts on many Collectibles and Events - such as Buried Stashes and Treasure Chests - have been increased.
The payouts for completing Gerald's Last Play and A Superyacht life Contact Missions have been increased by 25%
The Cannons of the P-996 Lazer and Hydra jets have been adjusted.
The Orbital Cannon can no longer be instantly reset or refunded to prevent players from being repeatedly targeted.
Rockstar had mentioned they were evaluating potential future adjustments, including "re-balancing certain aerial vehicles to help protect bystanders in Freemode", as well as "other fine-tuning efforts and service updates". Plus, we might see more vehicle pricing adjustments coming, as Rockstar said they "continue re-evaluating vehicle pricing as we move forward".
Career Progress (PS5 & Xbox Series X|S)
Track your criminal activities with Career Progress - a new feature that displays your progression as you rise through the criminal ranks and establish your empire.
This is accessible on PlayStation 5 and Xbox Series X|S from the GTA Online Main Menu or the Pause Menu, making it easier for both fresh-faced and veteran players to see all their accomplishments at a glance.
The Career Progress gives access to a range of challenges across GTA Online and provides exclusive rewards for players to earn. It can be accessed via the Landing Page and Pause menu.
Each section of Career Progress has 4 tiers of challenges and a reward to be claimed for completing each tier Some challenges will factor in progress made previously, while others will be started with a clean slate.
Creator Updates
A number of additions and updates are being made to the Rockstar Creator to continue fostering the kind of imaginative chaos that can only be experienced in Southern San Andreas. Some of these Creator updates include:
Dozens of new props are available in all Creators, including giant License Plate Walls, eCola cans, destructible fences, underwater mines, and more.

A selection of Arena War props have been added to all Creators
The Underwater Mine prop has been added to all Creators

A Snow weather option for Deathmatches, Races, and Survivals. Plus, Halloween themed additions arriving later this year.
Option to toggle musical score on and off.
Option to distinguish teams by assigning Outfits.
Deathmatches now have options for Dynamic Teams — players can change teams when respawning and Health Drain — where players lose health over time.
Plus, new radar blip options, the ability to lock time of day and weather options in the lobby, options to choose respawn time for item and weapon pickups, and much more.
The maximum number of enemy spawn points that can be placed in the Survival Creator has been doubled from 15 to 30
Fixture Removal is now available in the King of the Hill Creator.
The prop limit on PC has been increased to 300.
Update to Next-Gen Character Migration
In a change that was not announced by Rockstar, the process to migrate your PS4/Xbox One characters to the new generation of PS5/Xbox Series X|S, has been modified.
When this feature launched in March 2022, migrating your character to the new generation platform would delete your character on the old generation console.
This is no longer the case after the 1.67 Update in June 2023: now, migrating your character no longer deletes your old-gen progress, allowing you to continue using your characters on both generations, with separate progress on each.
However, this change is not retroactive, so if you migrated your character in the past, it will not be restored back to your old-gen account.
Drip-feed Content
Later this summer, keep an eye out for new vehicles and dynamic events unfolding in Freemode with the return of Armored Van robberies.
Plus, take part in a large-scale Adversary Mode on Cayo Perico in just a few short weeks:

Assault on Cayo Perico: One team attempts to storm Cayo Perico, breach the compound, and hack the computer. The other team tries to keep the attackers at bay until time's up.
GTA+ Exclusive Update: The Vinewood Car Club
Starting with the Summer 2023 update, GTA+ Members on PlayStation 5 and Xbox Series X|S are granted entrance into The Vinewood Club, the new premium service in Los Santos offering exclusive additional benefits.
The first of these perks to roll out on June 13 is an all-access pass to The Vinewood Car Club - a new garage location in the Terminal Area of Los Santos, which will regularly receive new and exclusive vehicles for GTA+ Members.
The Vinewood Car Club gives you access to a curated stock of distinct vehicles to test drive for an unlimited amount of time by ordering them to your location via the Interaction Menu, or inspecting them directly from the Vinewood Car Club.
The GTA+ Membership also allows you to purchase these vehicles at an exclusive discount of 20% or more, as well as claim The Vinewood Club "Reward Vehicle" for free each month.
GTA Online Update 2023: Make your own Music?
As reported by Tez2 himself, a reliable source indicated that Rockstar has been working on a system that would let players produce their own music in GTA Online.
Music has always been part of Rockstar's DNA, and they've been increasingly adding more music-related content to GTA Online in the past few years.
The next music-oriented idea from Rockstar seems to be a music mixer called "Rapponator", which would include being able to create your own mixes and beats.
The name is suggested by the fact that Take-Two Interactive, Rockstar's parent company, registered a domain for "rapponator.com". Also, a decade ago, Rockstar released a similarly-named music mixer called "Beaterator", which allowed players to come up with their own loops.
It was believed that this feature would be added in last year's December Update, but it might have been postponed to a later DLC.
GTA Online Update 2023: Movie DLC with Michael?
According to earlier rumors, the focus of the GTA Online December 2022 Update was going to be the return and involvement of Michael De Santa, similar to how in 2021, the Contract DLC had Franklin in the spotlight.
However, this didn't come true, as the December 2022 update had a Los Santos Drug Wars theme. So the Michael Movie DLC might have actually been postponed to a later date.
During the past year, a series of teases pointed to Michael De Santa appearing in GTA Online in an upcoming, movie-themed DLC. This included Movie References in the recent Vespucci Job (Remix) mode, the earlier Franklin's mention of Michael during The Contract DLC, and Michael's actor Ned Luke himself teasing his appearance.
The speculation was also fueled by Rockstar Games adding an NPC spawn point with a ped model named 'movie_set', in front of Record A Studios in Rockford Hills - as discovered by Tez2.
However, it seems that Michael's DLC has been postponed once again, as his involvement has not been announced for this Summer 2023 DLC either.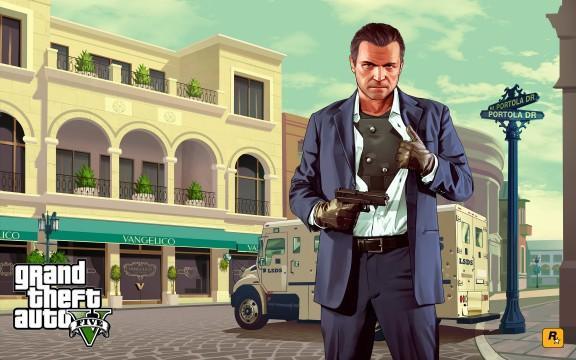 GTA Online Title Update 1.67: Full Patch Notes
As part of the GTA Online Update 1.67, there have also been a number of general improvements and fixes made to the game.
Click here to read the Full List of Bug Fixes on the Rockstar Support site.
And as always, it will be followed by the usual weekly special events and bonuses, taking place over the coming months.
What would you like to see in the upcoming Summer 2023 Update in GTA Online? Let us know in the comments down below!
GTA Online Mercenaries Update: Screenshots
GTA Online Mercenaries Update: Artworks
GTA Online Mercenaries Update: Videos