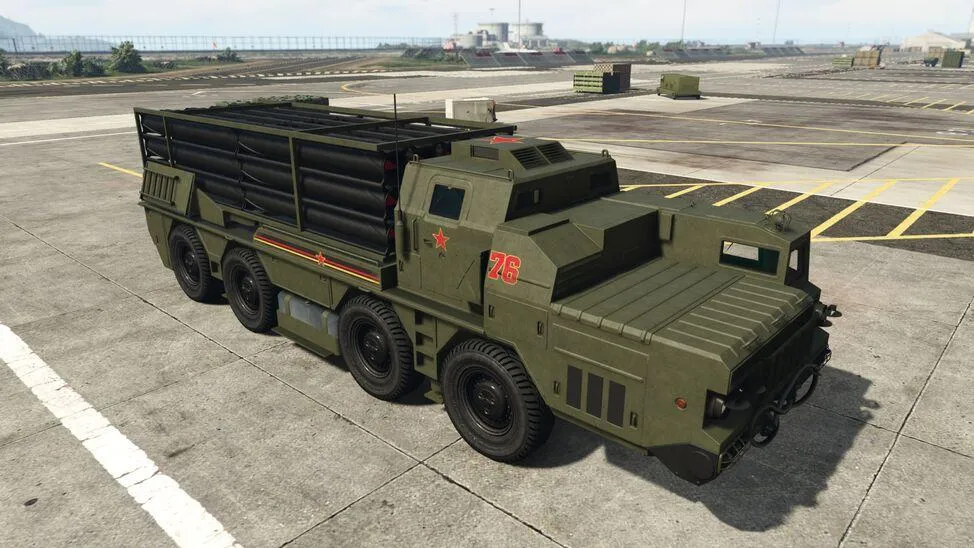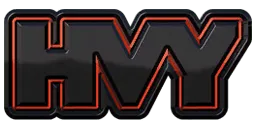 The HVY Chernobog is a weaponized Military vehicle featured in GTA Online, added to the game as part of the 1.42 The Doomsday Heist update on December 12, 2017.
How to get the Chernobog in GTA Online:
The Chernobog can be purchased in GTA Online from Warstock Cache & Carry for a price of $1,500,000.
The Chernobog can be stored in the Facility Property. It can only be customized at the dedicated Vehicle Workshop in the Facility Property.
Once acquired, you can request the delivery of the Chernobog from the Mechanic.
How to unlock the Chernobog Trade Price?
A trade price of $1,125,000 (Discounted)* can be unlocked for the Chernobog.
*The discounted SecuroServ Trade Price for the Chernobog is unlocked after the player has completed the related Doomsday Heist Mission (requires a Facility Property).
NB: The price of the Chernobog was originally $3,311,700, but it was changed on April 27, 2023.
The Chernobog is a ballistic missile launcher truck. The rocket system can fire up to five rockets, either independently or in a quick burst.
HVY

Chernobog in Real Life:

The design of the HVY Chernobog is based on a real life MAZ-543M, BM-30 Smerch.
HVY

Chernobog Top Speed:

The actual top speed of the Chernobog in GTA V is 70.25 mph (113.06 km/h) when it's fully upgraded, as it's been accurately tested in-game by Broughy1322.
Can you sell the Chernobog in GTA Online?
No, you cannot sell the Chernobog. Unfortunately in GTA Online it's not possible to sell Special Vehicles, Pegasus, or Facility Vehicles.
Chernobog: GTA V Vehicle Info
Vehicle Class

Military

Manufacturer

HVY

Vehicle Features

Bulletproof - RearHas LiveriesHas Trade PriceHoming MissilesNo Passive ModeTowing HitchWeaponized Vehicle

Acquisition

Warstock Cache & Carry

GTA Online Price

$1,500,000

Trade Price

$1,125,000

(Discounted)*

Storage Location

Facility Property

Delivery Method

Mechanic

Modifications

Point of Storage

Sell

Cannot be sold

Race Availability

Transform Races Only

Top Speed - Game Files

59.03 mph (95.00 km/h)

Based on (Real Life)

MAZ-543M, BM-30 Smerch
Seats

2

Mass / Weight

40,000

KG

Drive Train

AWD

Gears

5
Chernobog: GTA V Performance
The below Top Speed & Lap Time have been accurately tested by
Broughy
.
Top Speed - Real

70.25 mph (113.06 km/h)

Lap Time

1:54.204

Bulletproof

Bulletproof from the rear (rear has no windows)

Explosive Resistance

Amount of explosives required to destroy the Chernobog, with 100% armor, and occupied by a player:

| Explosive Weapon | Amount |
| --- | --- |
| Homing Launcher / Oppressor Missiles / Jet Missiles | 1 |
| RPG / Grenades / Sticky Bomb / MOC Cannon | 1 |
| Explosive Rounds (Heavy Sniper Mk II) | 2 |
| Tank Cannon (Rhino / APC) | 1 |
| Anti-Aircraft Trailer Dual 20mm Flak | 1 |
Chernobog: GTA V Statistics
Speed

50.97

Acceleration

30.00

Braking

3.33

Handling

60.61

Overall

36.23
Note: The above statistics are coming from the Rockstar official website.
Chernobog Description:
This was built for one thing, and one thing only. If you want to get anywhere quickly, you're in the wrong place. If you want to go off-road, look elsewhere. If you want something inconspicuous, move right along. But if your heart's desire is to stay very still while you launch enough heat-seeking missiles to reignite the Cold War, then buckle up. The Chernobog is very, very news indeed
Please note: This vehicle must be stored in a personal facility and can be modified at the Facility Vehicle Workshop.
Chernobog: GTA V Appearances
Release Date

December 12, 2017

DLC / Title Update

1.42 The Doomsday Heist

Game Edition

GTA Online

Platforms

PC

PlayStation 4

Xbox One
Notable Owners:

Merryweather Security
Model ID

chernobog

Notes

*The discounted SecuroServ Trade Price for the Chernobog is unlocked after the player has completed the related Doomsday Heist Mission (requires a Facility Property).

NB: The price of the Chernobog was originally $3,311,700, but it was changed on April 27, 2023.

Chernobog: Vehicle Customization

Total Cost to Fully Upgrade in GTA Online

$282,950

Modification
GTA Online Price
Armor

No Armor

$1,000

Armor Upgrade 20%

$7,500

Armor Upgrade 40%

$12,000

Armor Upgrade 60%

$20,000

Armor Upgrade 80%

$35,000

Armor Upgrade 100%

$50,000

Brakes

Stock Brakes

$1,000

Street Brakes

$20,000

Sport Brakes

$27,000

Race Brakes

$35,000

Engine

EMS Upgrade, Level 1

$9,000

EMS Upgrade, Level 2

$12,500

EMS Upgrade, Level 3

$18,000

EMS Upgrade, Level 4

$33,500

Horns
See the full list of the available Horns options »
Lights

Stock Lights

$600

Xenon Lights

$7,500

Livery

None

$11,400

Basic Camo

$18,240

Zancudo Camo

$19,380

Sprayed Camo

$20,520

3 Color Outline

$21,660

90s Sandbox

$22,800

Modern 5 Color

$23,370

Arid Theater

$23,939

Winter Camo

$24,510

Urban Warrior

$25,080

Nature Reserve

$25,650

Naval Battle

$26,220

Urban Geometric

$26,789

Coyote Geometric

$27,360

Large Geometric

$27,930

Naval Geometric

$28,500

Desert Fractal

$29,070

Urban Fractal

$29,639

Large Digital

$30,210

Medium Digital

$30,780

Small Digital

$31,350

Skulls

?

Knuckleduster

?

Conveyor

?

Stars

Reward

Tartan

?

Galaxy

Reward

Trees Camo

Reward

Candy Cane

Reward

It's a Wrap

Reward

Deck the Halls

Reward

Pink & Green Camo

Reward

Yellow & Blue Camo

?

Orange Shade Camo

?

Blue & Green Camo

?

Hunting Camo

?

Blue Tartan

?

Santo Capra Coins

?

Sessanta Nove Monogram

?

Sessanta Nove Multi-color

?

Dolla Dolla

?

Plates

Blue on White 1

$200

Blue on White 2

$200

Blue on White 3

$200

Yellow on Blue

$300

Yellow on Black

$600

Respray
See the full list of the available Respray options »
Transmission

Stock Transmission

$1,000

Street Transmission

$29,500

Sports Transmission

$32,500

Race Transmission

$40,000

Turbo

None

$5,000

Turbo Tuning

$50,000

Wheels > Wheel Type
See the full list of the available Wheel Types options »
Wheels > Wheel Color
See the full list of the available Wheel Colors options »
Wheels > Tire Design

Stock Tires

$200

Custom Tires

$5,000

Wheels > Tire Enhancements

Standard Tires

$200

Bulletproof Tires

$25,000 (Rank 20)

Low Grip Tires

$500 (at LS Car Meet)

Wheels > Tire Smoke
See the full list of the available Tire Smoke options »
Windows

None

$500

Light Smoke

$1,500

Dark Smoke

$3,500

Limo

$5,000
Chernobog: GTA V Screenshots
Chernobog: Custom Paint Jobs
Chernobog Video