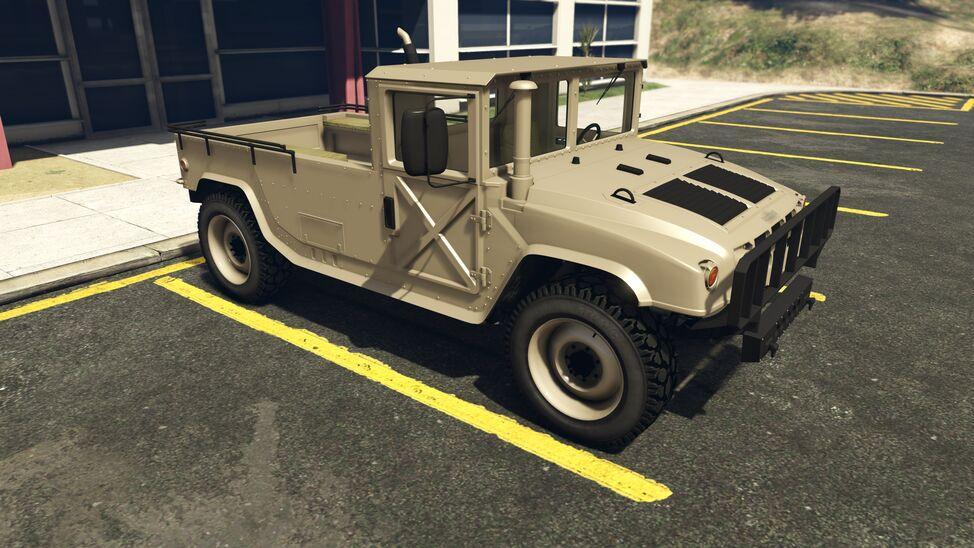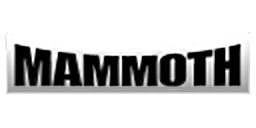 The Mammoth Squaddie is a SUVs vehicle featured in GTA Online on PS4, Xbox One, PC, PS5 and Xbox Series X|S, added to the game as part of the 1.52 Cayo Perico Heist update on February 4, 2021.
How to get the Squaddie in GTA Online:
The Squaddie can be purchased in GTA Online from Warstock Cache & Carry for a price of $1,130,000.
The Squaddie can be stored in any of your Properties/Garages as a Personal Vehicle. It can be customized at Los Santos Customs. You can also modify it in a Vehicle Workshop inside one of your owned properties.
Once acquired, you can request the delivery of the Squaddie from the Mechanic.
How to unlock the Squaddie Trade Price?
A trade price of $847,500 (Discounted)* can be unlocked for the Squaddie.
*The discounted Trade Price is unlocked after winning the "Assault on Cayo Perico" Adversary Mode. This vehicle was originally cut from GTA V, but then introduced to GTA Online with The Cayo Perico Heist Update.
Mammoth Squaddie in Real Life:
The design of the Mammoth Squaddie is based on a real life Hummer H1.
Mammoth Squaddie Top Speed:
The actual top speed of the Squaddie in GTA V is 101.75 mph (163.75 km/h) when it's fully upgraded, as it's been accurately tested in-game by Broughy1322.
Can you sell the Squaddie in GTA Online?
Yes, you can sell the Squaddie at Los Santos Customs for a resale price of $678,000 (60% of the original purchase), plus 50% of the value of your upgrades.
Squaddie: GTA V Vehicle Info
Seats

4

Mass / Weight

2,750

KG

Drive Train

AWD

Gears

5
Squaddie: GTA V Performance
The below Top Speed & Lap Time have been accurately tested by
Broughy
.
Top Speed - Real

101.75 mph (163.75 km/h)

Lap Time

1:16.678

Bulletproof

No

Explosive Resistance

Amount of explosives required to destroy the Squaddie, with 100% armor, and occupied by a player:

| Explosive Weapon | Amount |
| --- | --- |
| Homing Launcher / Oppressor Missiles / Jet Missiles | 1 |
| RPG / Grenades / Sticky Bomb / MOC Cannon | 1 |
| Explosive Rounds (Heavy Sniper Mk II) | 2 |
| Tank Cannon (Rhino / APC) | 1 |
| Anti-Aircraft Trailer Dual 20mm Flak | 1 |
Squaddie: GTA V Statistics
Speed

69.75

Acceleration

42.50

Braking

10.00

Handling

60.61

Overall

45.71
Note: The above statistics are coming from the Rockstar official website.
Squaddie Description:
Long gone are the days of playing army men with other kids. Now you play army men with grownups. And what's more grownup than giving each other a high and tight before piling into an armored truck, stripping to the waist and making revving noises? It's just like the old days, but your mom's not there to make you snacks.
Squaddie: GTA V Appearances
Squaddie Spawn Locations in Grand Theft Auto V

Where to find the Squaddie in

GTA Online

:

GTA Online:

Can be seen parked at the roadside or driven by the guards on Cayo Perico

Notable Owners:

Military

Similar Vehicles
Model ID

squaddie

Notes

*The discounted Trade Price is unlocked after winning the "Assault on Cayo Perico" Adversary Mode. This vehicle was originally cut from GTA V, but then introduced to GTA Online with The Cayo Perico Heist Update.

Squaddie: Vehicle Customization

Total Cost to Fully Upgrade in GTA Online

$421,400

Modification
GTA Online Price
Armor

No Armor

$1,000

Armor Upgrade 20%

$7,500

Armor Upgrade 40%

$12,000

Armor Upgrade 60%

$20,000

Armor Upgrade 80%

$35,000

Armor Upgrade 100%

$50,000

Body Work

None

$6,000

Black Roll Bar

$7,050

Black Gladiator Roll Bar

$10,000

Chrome Roll Bar

$13,000

Chrome Gladiator Roll Bar

$14,000

Low Profile Side Rails

$16,000

Troop Carrier Side Rails

$16,500

Side Rails w/ Canopy Frame

$17,000

Heavy Troop Carrier Side Rails

$17,500

Heavy Rails Canopy Frame

$18,000

Side Rails Armored Panels

$18,500

Canopy Frame Armored Panel

$19,000

Heavy Rails Armored Panel

$19,500

Heavy Rails Frame & Panel

$20,000

Brakes

Stock Brakes

$1,000

Street Brakes

$20,000

Sport Brakes

$27,000

Race Brakes

$35,000

Bumpers > Front Bumpers

Stock Front Bumper

$2,200

Black Offroad Crux Bumper

$4,600

Black Offroad Ridge Bumper

$7,400

Black Offroad Stinger Bumper

$11,700

Black Offroad Shield Bumper

$14,500

Chrome Offroad Ridge Bumper

$14,700

Chrome Offroad Stinger Bumper

$14,900

Chrome Offroad Shield Bumper

$15,100

Black Low Profile Bumper

$15,300

Chrome Low Profile Bumper

$15,500

Primary Low Profile Bumper

$15,700

Secondary Low Profile Bumper

$15,900

Black Low Profile w/ Winch

$16,100

Chrome Low Profile w/ Winch

$16,300

Bumpers > Rear Bumpers

Stock Rear Bumper

$2,200

Black Bumper Bars

$4,600

Chrome Bumper Bars

$7,400

Black Offroad Trail Bumper

$11,700

Black Offroad Stinger Bumper

$14,500

Chrome Offroad Trail Bumper

$14,700

Chrome Offroad Stinger Bumper

$14,900

Black Heavy Plated Bumper

$15,100

Chrome Heavy Plated Bumper

$15,300

Chassis

Stock Chassis

$700

Stowage Racks

$1,100

Ammo Boxes & Jerry Cans

$1,350

Weapons Crates & Ammo Boxes

$1,500

Camo Net & Ammo Boxes

$2,750

Camo Net & Weapons Crates

$3,600

Doors

Stock Door

$300

Primary Stock Door

$900

Primary X Plated Doors

$1,500

Secondary X Plated Doors

$1,700

Primary Beveled Doors

$2,000

Secondary Beveled Doors

$2,750

Primary Beveled Armored Doors

$3,300

Sec. Beveled Armored Doors

$3,900

Primary Beveled Armor Plated

$4,350

Sec. Beveled Armor Plated

$5,000

Primary Plated Doors

$5,150

Prim. Chequer Plated Doors

$5,300

Sec. Chequer Plated Doors

$5,450

Primary Medium Armored Doors

$5,600

Sec. Medium Armored Doors

$5,750

Primary Heavy Armored Doors

$5,900

Sec. Heavy Armored Doors

$6,050

Engine

EMS Upgrade, Level 1

$9,000

EMS Upgrade, Level 2

$12,500

EMS Upgrade, Level 3

$18,000

EMS Upgrade, Level 4

$33,500

Exhaust

Stock Exhaust

$260

Side Exit Chrome Exhaust

$750

Side Exit Titanium Exhaust

$1,800

Side Exit Trail Exhaust

$3,000

Side Exit Dual Chrome Exhausts

$9,550

Side Dual Titanium Exhausts

$9,750

Side Exit Dual Trail Exhausts

$10,500

Low Exit Exhaust

$12,000

Dual Low Exit Exhausts

$13,750

Dual High Exit Exhausts

$14,625

Explosives

Ignition Bomb

$5,000

Remote Bomb

$7,500

Grilles

Stock Grille

$200

Black Grille Guard

$750

Painted Grille Guard

$1,340

Grille Guard w/ Blank Fogs

$1,650

Grille Guard w/ LED Bar

$3,000

Grille Guard w/ Fog Lights

$3,200

Black Wide Grille Guard

$3,650

Wide Guard w/ Blank Fogs

$4,100

Wide Grille Guard w/ 2x Fogs

$4,550

Wide Grille Guard w/ 4x Fogs

$5,000

Chrome Wide Guard w/ 4x Fogs

$5,350

Narrow Grille Guard w/ LED Bar

$5,700

Painted Guard w/ Fogs & LED

$6,050

Chr. Grille w/ Fogs & LED Bar

$6,400

Black Heavy Brush Guard

$6,750

Chrome Heavy Brush Guard

$7,100

Brush Guard w/ 3x Fogs

$7,450

Chrome Brush Guard w/ 3x Fogs

$7,800

Black Brush Guard w/ 4x Fogs

$8,150

Black Brush Guard w/ LED Bar

$8,500

Hood

Stock Hood

$1,600

Primary Stock Hood w/ Bag

$3,000

Secondary Stock Hood w/ Bag

$5,000

Primary Vented Scoop Hood

$8,000

Secondary Vented Scoop Hood

$9,600

Prim. Small Modular Vents

$11,000

Sec. Small Modular Vents

$11,600

Prim. Medium Modular Vents

$12,000

Sec. Medium Modular Vents

$12,400

Prim. Triple Modular Vents

$12,400

Sec. Triple Modular Vents

$12,500

Primary Plastic Hood Cover

$12,900

Secondary Plastic Hood Cover

$13,250

Prim. Chrome Vented Cover

$13,600

Sec. Chrome Vented Cover

$13,900

Horns
See the full list of the available Horns options »
Lights > Headlights

Stock Lights

$600

Xenon Lights

$7,500

Lights > Neon Kits
See the full list of the available Neon Kits options »
Livery

None

$11,400

Basic Camo

$18,240

Zancudo Camo

$19,380

Sprayed Camo

$20,520

3 Color Outline

$21,660

90s Sandbox

$22,800

Modern 5 Color

$23,370

Arid Theater

$23,939

Winter Camo

$24,510

Urban Warrior

$25,080

Nature Reserve

$25,650

Naval Battle

$26,220

Urban Geometric

$26,789

Coyote Geometric

$27,360

Large Geometric

$27,930

Naval Geometric

$28,500

Desert Fractal

$29,070

Urban Fractal

$29,639

Large Digital

$30,210

Medium Digital

$30,780

Small Digital

$31,350

Mirrors

Stock Mirrors

$300

Secondary Stock Mirror

$900

Black Modern Mirrors

$1,500

Secondary Modern Mirrors

$1,700

Black Long Stem Mirrors

$2,000

Secondary Long Stem Mirrors

$2,750

Black Bolted Wide Mirrors

$3,300

Secondary Bolted Wide Mirrors

$3,900

Plates

Blue on White 1

$200

Blue on White 2

$200

Blue on White 3

$200

Yellow on Blue

$300

Yellow on Black

$600

Respray
See the full list of the available Respray options »
Roof

Stock Roof

$200

Roof Rack

$700

Chrome Roof Rack

$1,150

Cargo Roof Rack

$1,600

Chrome Cargo Roof Rack

$1,950

Roof Basket w/ Fog Lights

$2,400

Chrome Basket w/ Fog Lights

$2,500

Roof Basket w/ LED Bar

$2,850

Large Roof Basket w/ LED Bar

$3,400

Basket w/ Crates & Ammo Boxes

$3,950

Skirts

Stock Skirts

$2,500

Rhino Side Steps

$5,500

Black Running Steps

$8,000

Chrome Running Steps

$10,500

Black Ridge Steps

$14,000

Chrome Ridge Steps

$14,500

Nerf Bars

$15,000

Nerf Bars w/ Plated Step

$15,500

Black Running Boards

$16,000

Black Trail Running Boards

$16,500

Chrome Running Boards

$17,000

Chrome Trail Running Boards

$17,400

Trail Side Steps

$18,300

Crux Side Steps

$19,000

Stinger Side Steps

$20,425

Suspension

Stock Suspension

$200

Lowered Suspension

$1,000

Street Suspension

$2,000

Sport Suspension

$3,400

Competition Suspension

$4,400

Transmission

Stock Transmission

$1,000

Street Transmission

$29,500

Sports Transmission

$32,500

Race Transmission

$40,000

Turbo

None

$5,000

Turbo Tuning

$50,000

Wheels > Wheel Type
See the full list of the available Wheel Types options »
Wheels > Wheel Color
See the full list of the available Wheel Colors options »
Wheels > Tire Design

Stock Tires

$200

Custom Tires

$5,000

Wheels > Tire Enhancements

Standard Tires

$200

Bulletproof Tires

$25,000 (Rank 20)

Low Grip Tires

$500 (at LS Car Meet)

Wheels > Tire Smoke
See the full list of the available Tire Smoke options »
Windows

None

$500

Light Smoke

$1,500

Dark Smoke

$3,500

Limo

$5,000
Squaddie: GTA V Screenshots
Squaddie: Custom Paint Jobs
Squaddie Video