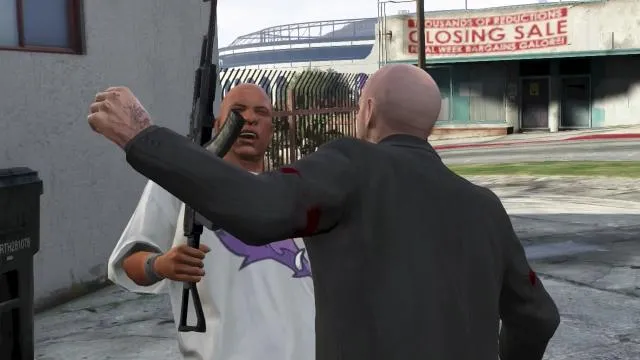 Similarly to GTA III and GTA Vice City, Rampages in Grand Theft Auto V are a series of side missions where the player must kill a certain amount of enemies and destroy vehicles, under a time limit.
In GTA V, Rampages are classified as Strangers & Freaks missions, and can only be performed by Trevor Philips. There are five Rampages in total, and they must be completed in order to unlock the next one.
Upon approaching a rampage icon (orange skull) on the map, Trevor will argue with the nearby people, which will cause him to go into a rage and start massacring them.
During Rampages, Trevor gains a super-charged version of his Special Ability, making him almost invincible to damage, and giving him infinite ammo to the designated weapon, as well as 25 grenades.
The GTA 5 Rampages are optional endeavors, not required for 100% Completion of the game. However, completing all five Rampage missions will unlock the achievement / trophy "Red Mist".
This side activity is also present in GTA San Andreas, GTA Vice City, Grand Theft Auto III, GTA Vice City Stories and GTA Liberty City Stories.
GTA 5 Rampages: List
Click on each Rampage mission below to see the full details, walkthrough and Gold Medal Objectives for all five Rampages:
Note: To get a Gold Medal in a Rampage mission, you need to complete all objectives in a single playthrough. They can be replayed via the Pause Menu as Strangers & Freaks missions.
Rampages: Activity Info
Mission Type

Side Mission (optional)Strangers and Freaks

Mission Giver

Trevor Philips

Protagonist (Playable)

Trevor Philips

Available After Mission (Story Mode)

Required for 100%

No
Game Edition

GTA V Story Mode

Platforms

PC

PlayStation 4

Xbox One

PlayStation 3

Xbox 360
Rampages: Video Walkthrough
PS3 / Xbox 360 Video Walkthrough:
PC Video Walkthrough: