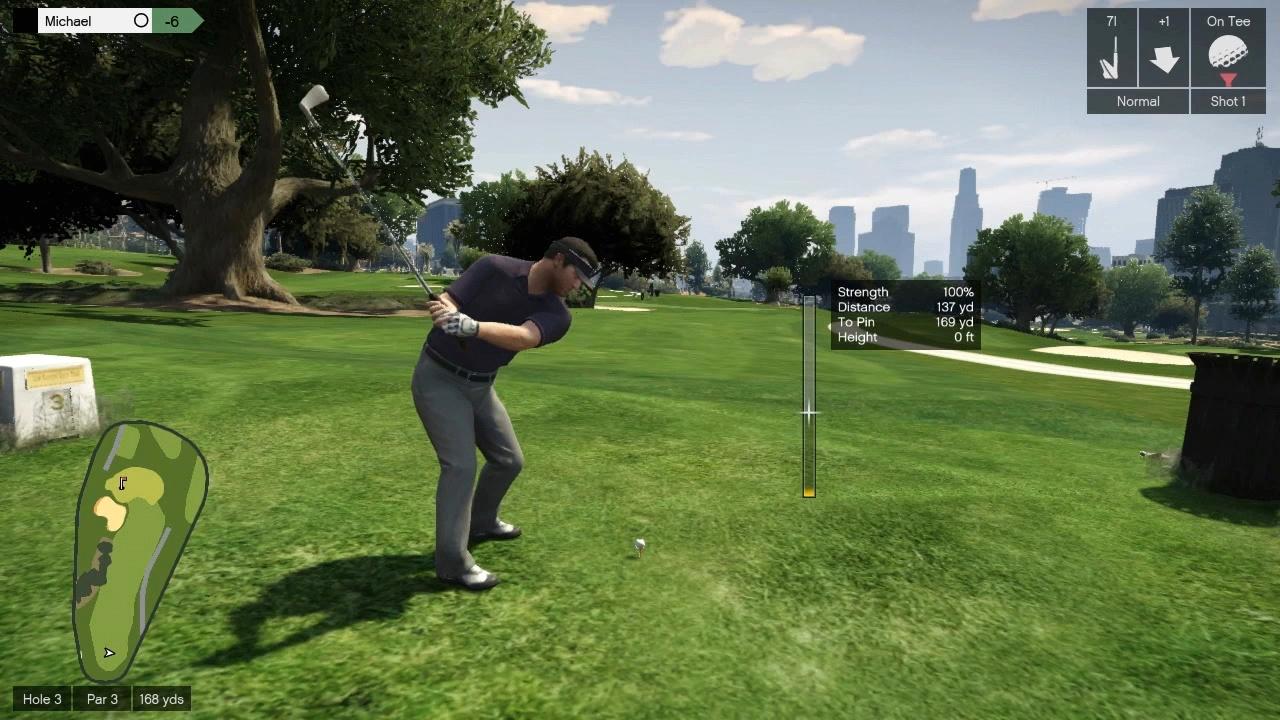 In Grand Theft Auto V, as well as GTA Online, Golfing is a complete mini-game, available to play for every protagonist at the Los Santos Golf Club for a price of $100, after the mission Complications.
This is an optional endeavor, but playing 9 holes of Golf and finishing even or below par is required for 100% Completion of the game.
This side activity is also present in Grand Theft Auto IV and GTA Vice City Stories.
Golf: Game Mechanics
The golfing minigame consists of the player hitting the golf ball towards the green and putting it into the hole in the least number of strokes possible. The player can drive a Caddy between strokes to his next shot.
The player has a full set of clubs at their disposal. Before a swing, they can change the club, the stroke type, adjust their aim and preset the desired stroke power. Weather condition impacts the difficulty of the game, such as wind strength, and direction, but also rain slowing the greens and fairways.
Hazards such as water and throwing the ball out of bounds are present, incurring penalties. Different types of terrain, such as sand traps influence the release path of the ball.
Players can impart spin on the ball after contact to achieve advanced strokes such as fades and draws.
Statistics are kept for games, such as the longest drive per hole, fairways and greens in regulation, closest pins. The player is announced on the screen when they improve in a particular statistic.
In GTA Online, the player is able to play golf with other players in the same session. The game mechanics remain the same.
Golf: Opponents
All three protagonists can play Golf as a friend activity, but the player must pay for both rounds (unless the player owns the golf club, then they play for free).
If the player beings a game of golf alone, they can choose to compete against up to three NPC players. Only Todd is available at first, the other being progressively available after completing a round with an easier opponent.
Possible Golf Opponents:
Todd Rosenweig: Easy
Aaron Ingram: Normal
Jeff Miller: Normal
Glenn Mather: Hard
Castro Lagano: Hard (Castro is unlocked after his Random Event, provided he isn't delivered to the Altruist Cult by Trevor)
Golf: Activity Info
Mission Type

Hobbies & Pastimes

Protagonist (Playable)

Michael De SantaFranklin ClintonTrevor Philips

Location

Los Santos Golf Club

State / Area

Los Santos

Available After Mission (Story Mode)

Required for 100%

Yes
Notes

A round of golf costs $100.
Game Edition

GTA OnlineGTA V Story Mode

Platforms

PC

PlayStation 4

Xbox One

PlayStation 3

Xbox 360