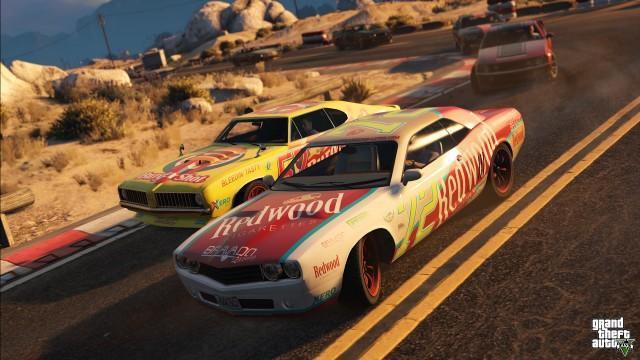 Stock Car Racing is point-to-point racing series in the Enhanced edition of Grand Theft Auto V, featuring modified muscle cars. Stock Car Racing is available only in the enhanced version (PS4, Xbox One, and PC) for players returning from the PS3 or Xbox 360 edition.
This is an optional endeavor, not required for 100% Completion of the game.
The races are introduced to Trevor Philips by Ron Jakowski through a text message. The race marker can be found near the Yellow Jack Inn in the Grand Senora Desert, where an NPC will be standing near the Prize Car for the respective race.
The race is always run around the same track in the desert, starting on Panorama Drive, north to Smoke Tree Road before coming back through Cat Claw Avenue past Thomson Scrapyard. The player always competes against the Prize Car plus seven other AI-controlled cars. Each race lasts 5 laps.
Stock Car Races: Rewards
There are a total of 5 Stock Car Races, with four Stock Cars and a Marshall Monster Truck as prizes.
Every race win allows the protagonist to select the prize vehicle from the "Special Vehicles" menu in their garage. These are the 5 prize vehicles, in order:
After the 5th win, the prize vehicle reverts back to the first one.
Stock Car Races: Activity Info
Mission Type

Hobbies & Pastimes

Protagonist (Playable)

Michael De SantaFranklin ClintonTrevor Philips

Location

Yellow Jack Inn, Grand Senora Desert

State / Area

Blaine County

Available After Mission (Story Mode)

Required for 100%

No
DLC / Title Update

1.18 PS4 & Xbox One Release

Game Edition

GTA V Story Mode

Returning Players Bonus

Platforms

PC

PlayStation 4

Xbox One
Stock Car Races: Video Walkthrough